Skip the DIY Social Media Marketing Strategy
Skip the DIY Social Media Marketing Strategy
/images/uploads/blog/SKIP-DIY-SOCIAL-MEDIA-MARKETING-OMAHA-MEDIA-GROUP.png
Omaha Media Group
https://www.omahamediagroup.com/images/uploads/monster_gallery/Omaha-Media-Group-Black.jpg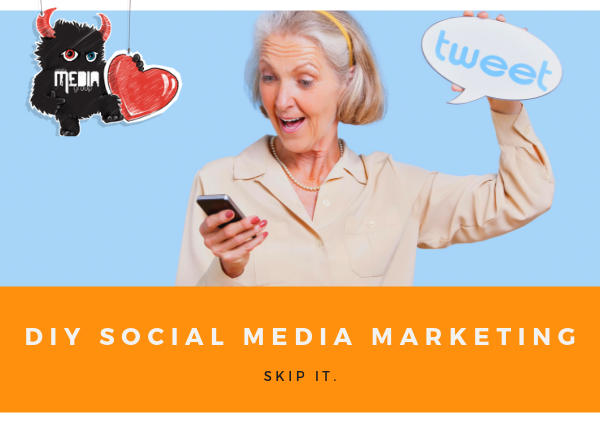 Having a social media marketing strategy is an important part of modern-day promotion. Social platforms host incredible opportunities to reach a targeted audience immediately, and often in one fell swoop. Where traditional marketing tactics like print media, television and radio ads once created exceptional brand awareness, social media has quickly become a solid competitor.
You need a

social media marketing strategy

Over seventy-nine percent of Americans have a social media profile. It's safe to say that somewhere in the web of social platforms, your niche audience is out there!

Not only is social media marketing affordable, it's effective. When utilizing the platforms your audience resides on, businesses can increase their brand exposure, provide fast customer service and promote the products and services they provide.

What happens if you don't have a social media marketing strategy? It's like walking into the Apple store with a walkman on your hip. You're out of touch.The risks of DIY social media.

We get it. You have a personal Facebook account. What can be so different about social media for a business? Everything.

Lack of consistency

With personal social media, your 'Friends' rarely think twice about the lack of social media posts you make. However, with a business, consistency is key. Having a well maintained schedule for your social media posts can make all the difference in the perception your followers have of your business.

Consistent posting allows for current information and portrays that your business is actually still in operation!

Too much selling

We see this often! It's important to take a step back and observe what you enjoy on social media. Consumers are savvy enough to understand a business wants to sell their products and services. When a business implements the "always be closing" mindset, they're missing the point of social media: to be social.
When you hire a professional to implement a social media marketing strategy, you're not only taking advantage of the tools they have, you're taking advantage of years of marketing expertise. Believe it or not, there's a method to the madness, even on Facebook.
Skipping the metrics
There are more metrics than you probably know in social media marketing! Most DIY social media is based on the number of followers your business receives. But is that the most important metric to measure? Far from it.
The analytics behind your social media give incredible insight as to what your audience likes, what they find interesting and what you should implement in the future. If your only paying attention to the followers your business has, you're playing for a popularity contest, not for lead conversion.
Metrics don't only show how well your posts are performing, they give insight as to what you should improve upon as well. While analyzing the good numbers is great, analyzing the not-so-good is a humbling experience.
If you've been trying to make a DIY social media plan work for your business, it's time to seek out a professional. Falling short in the social world might not seem like a big deal, but when seventy-nine percent of Americans are there, it's important to step up your game!
Share this post
Comments