Updated - The "SEO Service" Spam That Plagues The Nations
Updated - The "SEO Service" Spam That Plagues The Nations
/images/uploads/blog/seo-spam-omaha-media-group.png
Omaha Media Group
https://www.omahamediagroup.com/images/uploads/monster_gallery/Omaha-Media-Group-Black.jpg
Do you run a website for yourself or a business? Or maybe you're like us and you manage hundreds of company websites and brands. Whether you're small or large there's no doubt that you get barraged via email by what we like to call "SEO Service Spam". Here's the bad, the ugly, and the good that comes with the SEO Spam messages.
Here's one of the latest one we received this weekend. This one is from Chelsey Martin, the Managing Director of SG Media Pte. Ltd in Midview City, Singapore. I mean wow!! The Managing Director of SG Media Pte. Ltd. took the time to review our website?!?
Read one of the recent ones we've received: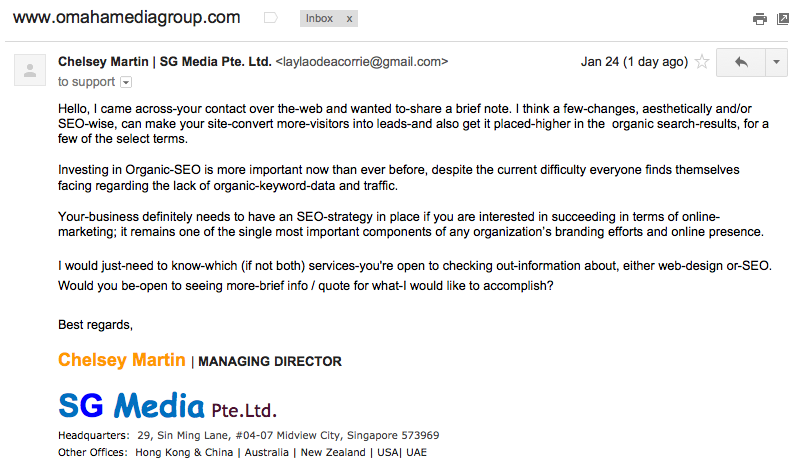 It reads:
Hello, I came across-your contact over the-web and wanted to-share a brief note. I think a few-changes, aesthetically and/or SEO-wise, can make your site-convert more-visitors into leads-and also get it placed-higher in the organic search-results, for a few of the select terms.

Investing in Organic-SEO is more important now than ever before, despite the current difficulty everyone finds themselves facing regarding the lack of organic-keyword-data and traffic.

Your-business definitely needs to have an SEO-strategy in place if you are interested in succeeding in terms of online-marketing; it remains one of the single most important components of any organization's branding efforts and online presence.

I would just-need to know-which (if not both) services-you're open to checking out-information about, either web-design or-SEO. Would you be-open to seeing more-brief info / quote for what-I would like to accomplish?

Best regards,
Chelsey Martin | MANAGING DIRECTOR
SG Media Pte.Ltd.
Headquarters: 29, Sin Ming Lane, #04-07 Midview City, Singapore 573969
Other Offices: Hong Kong & China | Australia | New Zealand | USA| UAE
Chelsey of course recommends "a few-changes, aesthetically" would help help our website "convert more-visitors into leads". ​Chelsey also states the obvious, that "Investing in Organic-SEO is more important than ever". We definitely agree, "business definitely needs to have an SEO-strategy in place". We say it to every person, business, entity that we speak to! Every business needs an SEO strategy!
Updated - Here's another one, this time from Susan over at Page Port Pty Ltd.
This one reads:

Hi,

I was analysing your website and it seems that your website rankings have dropped on Google. It is due to non-optimization techniques / errors and Google guidelines not being met.

I would like to present a detailed analysis of your website along with errors that your website and ways to improve your Google rankings.

Please let me know if you are interested in improving your website's ranking on Google.

In terms of pricing, our pricing structure is heavily dependent on the keywords you wish to target for your website and their current positions on Google.

If you can send me a list of the keywords we can tailor a package and send you a detailed proposal outlining package inclusions and pricing along with a time frame for our services.

Can I call you this week to discuss your campaign? Please reply with your phone number.

Thank you,

SUSAN CARR HOWARD | Strategy & Technology Manager
PAGE PORT WEB NETWORKS PTY LTD GOOGLE PARTNER

Headquarters: Office 1615, 30 Foveaux Street, Surry Hills NSW Australia
Other Branches: Melbourne | Perth | Brisbane | Adelaide | Hobart
Oh the humanity, what on earth is going on with our website?!? Apparently it's TERRIBLE!! At least that's what we're supposed to think.
SEO Hook Line and Sinker
Chelesy gets right to the point too, all she needs is to "know-which (if not both) services" we would be interested in, or having them "check out" for us. ​Chelesy then gives us her best regards and closes with her contact information. Susan too! Seems legit right? Wrong!
The SEO Spam Manifesto
If you're like us you get anywhere from 1 to 20 of these types of messages on a daily basis from SEO experts located all over the world. These SEO Experts claim to "know the secrets of SEO", or can "catapult your ranks to the tops of the search engines". These SEO Spammers claim to have crawled your websites and have taken the time to put together a report for you. These reports often outline where your website lacks and why you're not coming up to the top of the search results.
Wow, I mean wow. Just think about it, a lonely person sitting at their computer on the other side of the globe crawling through your website? Then taking the time to create a specialized report just for you?!? I mean, how thoughtful of them right? Again, wrong!
SEO Spam Problems
The major problem with these types of message, like most spam, these messages are cleverly written. Chelsey most likely is a internet bot, who crawls the domain registrar or a website harvesting any and all contact emails then then sends a cleverly written spam message passing off of as someone who actually cares about your business, who will take the time to help your business with services like "SEO-strategy", "SEO-backlinks", or any other SEO service that they can hope you don't know you need.
We just can't get over how thoughtful they are, I mean knowing SEO extremely well we understand how much time Chelsey must have put into all of her work, all for zero pay. It's just so amazingly thoughtful. Why can't everyone be so thoughtful?
SEO Spam Implants Fear
It's pretty simple why these message are sent, and why sometimes they actually work. SEO Spam, like most spam, plays on your ignorance, in this case ignorance of SEO basics. They also plant fear into your mind that you or your web designer / web management company isn't doing what they need to do. Or worse, your web developer / designer doesn't know what they should be doing and you could definitely be doing better by hiring their services over the service you probably already know.
Playing on SEO Rank Factors and Ignorance
Some of these SEO-Spam messages are amazingly written too! We receive messages that actually go into some detail on 2015 or 2016 page ranking factors like back linking, page optimization including proper use of alt tags, HTML / JavaScript and CSS minification, taking advantage of CDN, and especially a mobile-friendly design. Heck, there are 250+ page ranking factors that you need to at least be aware of when designing and maintaining your website.
The point is, like anything, you don't know what you don't know. So what do you do?
Recommended Steps To Implementing Proper SEO Management
Our guess is you get these messages from time to time too. The great thing is they are a nice wake-up call to staying SEO-engaged when it comes to your website interests. However, like most SPAM it should be treated as such and these messages should be deleted and blocked.
Before you panic from receiving one of these messages let us ask ourselves a few basic questions about the SEO Spam message to help us feel better about ourselves, or your web developer:
Did someone really take the time to crawl your website and prepare a report for you?
Probably not.

Do you really think hiring someone you don't know and who contacted you via a unsolicited SPAM message is your best bet for an SEO-Strategy?
It's not.

Do you already have a web developer? Are they capable of understanding proper SEO for your website?
Maybe, but take the time to ask them. And ask nicely too. We're people too and most of the time if you're a good client we'll want to help to make sure everything that is being done is being done.
The SEO Basics
As SEO continues to get more complex we will be the first to admit that it can be hard to dive right in and start understand what to do, when to do it, and how to stay on top of what you're doing. This all is normally wrapped up into a "SEO Strategy" and like most strategies it should be totally customized for you and your business / website. Why? Well because you most likely have specific needs so an SEO Strategy while might work great for one business, it might be terrible for yours.
Learning SEO can be broken down into the following basic steps:
Read the Search Engine Optimization Starter Guide - by Google
Re-read the Search Engine Optimization Starter Guide - by Google
Start planning out what is import for your business when it comes to search engine optimization, the "Why's"
Strategize
Implement, Review, Modify, Repeat
OR, be smarter and do the following:
Find someone who knows you and your business and can do this for you. Like Us.
When All Else Fails
When all else fails, or you're too busy to stay on top of it all, we recommend hiring a company like us to manage the entire thing for you. It's what we do, and we're VERY good at it. We will design a custom strategy applicable for you and your business, and will help you to maintain it as the days, months and years progress. Seriously, we're awesome at SEO, we can help!
Summarizing the SEO Spam Madness
Look, getting these types of SEO Spam emails form Chelsey is inevitable, its going to happen; a lot! So should you hire these people? Most likely not. These messages should however been a nice reminder that you SHOULD BE doing something about your SEO. Otherwise why even have a website? SEO can be done by yourself but you're probably better off hiring someone who specializes doing SEO. Just like you'd be probably better off not replacing your car's transmission.
In the event you do find yourselves in trouble or in need please let us know. We're SEO experts and we would be happy to help. Just contact us.
Contact Us
We want to hear from you, so what are you waiting for? Contact us today.
Get In Touch
Share this post
Comments