Top 3 Reasons Why Social Media Marketing Is Good for Your Business
Top 3 Reasons Why Social Media Marketing Is Good for Your Business
/images/uploads/blog/WHY-SOCIAL-MEDIA-MARKETING-IS-GOOD-FOR-BUSINESS-OMAHA-MEDIA-GROUP.png
Omaha Media Group
https://www.omahamediagroup.com/images/uploads/monster_gallery/Omaha-Media-Group-Black.jpg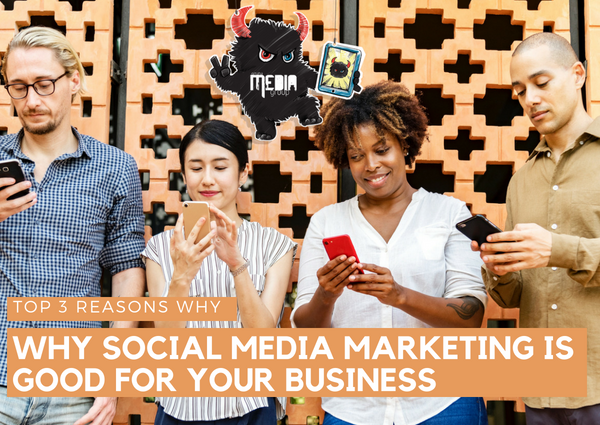 Interested in finding out how social media marketing can benefit your business?
Social media marketing might have started out as a trend but it rapidly transformed into a primary channel for marketing. You probably know that it is a powerful force to be reckoned with. Yet, you still hold on to the traditional media channels to market your business. Or you have joined the bandwagon grudgingly and are doubtful of its purpose.
These three benefits will dissolve those doubts and make you a firm believer of social media marketing magic:
1. Builds your brand, gets it recognized.
Your social media account is your brand's true ambassador, as it provides you with an authentic voice and visibility on the web. New and old customers will appreciate the human contact they receive when they connect to your brand through a social media account.
The best part is that unlike a celebrity ambassador, your social media account is under your control. You do not have to worry about it speaking out of line or being bought by a rival.
2. Improves your relationship with the customers.
Customer loyalty has been noted to increase via social media accounts. This is because the accounts give the customers access to the behind the scene details, the upcoming products and most importantly customer support. Your customers can get a taste of who you are and what you can do for them through your social media.
This insight into the company makes the brand a friend rather than a corporate giant/machine. Thus, the human contact will help you improve ties with even the most indifferent customers. Furthermore, social media account gives you a chance to welcome the new customers first hand.
3. You now have a chance to read your customer's mind.
You might think that the previous benefits aren't tangible enough for you to invest in social media marketing.
You think that your brand has enough recognition and loyal customers because of the years of experience that you have put in prior to the social media boom.
However, what about the future? How can you get Gen Y and Zs attention? Don't you want to know why the sales have drastically dropped?
Your social media account might just answer those questions for you because it works like a two-way mirror. Just like the customers have the opportunity to look into your business, you get the chance to get a glimpse of their wants.
If you play your cards right, social media marketing could be a win-win situation for both the brand and its customers. An additional plus is that investing in a social media account is definitely cheaper than traditional marketing strategies; it also reaches a wider audience.
We hope that these advantages are the incentive you need to break out of your comfort zone and create a social media profile.
We think social media is here to stay.
The question is: Are you?
Need Social Media Marketing
Let us take Social Media Marketing off your plate!
Contact Us!
Share this post
Comments