What is Click-Through-Rates (CTR)?
What is Click-Through-Rates (CTR)?
/images/uploads/blog/Omaha-Media-Group-08.08-Blog_.jpg
Omaha Media Group
https://www.omahamediagroup.com/images/uploads/monster_gallery/Omaha-Media-Group-Black.jpg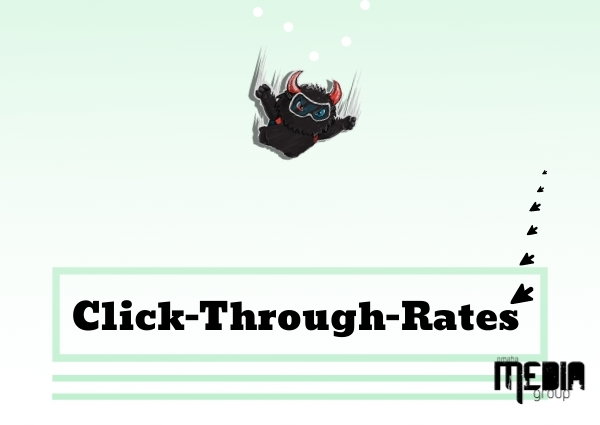 A Pay per click (PPC) advertising campaign is one of the most common types of online advertising out there because it provides a company with faster sales and lead generation than traditional organic search strategies that are set in place.
As our PPC management Omaha experts have explained before, a company only pays for each click that their advertisement receives. As a company continues to run these types of ads, it is important to fine tune the process to spend the least amount of money while getting the most in return.
Here is what online advertising click through rates mean and their value in the PPC advertising industry.
As Search Engine Journal puts it "put simply, click-through-rate is the percentage of impressions that resulted in a click. If your PPC ad had 1,000 impressions and one click, that is a 0.1 percent CTR."
What does that .01 percent CTR tell our PPC management Omaha experts? That this ad was not effective at all. There are several different reasons that a PPC ad does not measure up from the wrong keyword being utilized to the ad being too vague.
A CTR impacts not only the company's bottom line, but the overall AdRank! Yes, search engines, like Google, have an AdRank just like ranking any content on their search engines.
Google states that an Ad rank will determine the position that the advertisement sits on its results page. Ever noticed that certain advertisements are on the top of the search result page versus the bottom?
This is because one company has a higher AdRank score with Google over another one. A number of companies assume that if they try to spend more money that their advertisement will appear in the top three advertisement spots on Google, but in all reality, this is not always the case. A company could spend a considerable amount of money on their advertisements, but still be pushed down to the bottom spot. This also has to deal with the copy of the advertisement and competitiveness of the keywords that were chosen.
Let's search on Google "lawyers in Omaha" The first results that appear for this search query are ads, then the MapPack, organic ranking and more ads.
Well this could show that Berry Law Firm paid quite a bit more for their advertisement and has a better online advertising click through rate than others on the results. On the other hand, there is another factor that one has to take into place.
A good, average or bad online advertising click through rate is also defined on where the ad is running.
As WordStream shows in this infographic, for the legal industry, a good CTR is 1.35 percent for search but for Google Display Network it is 0.45 percent.
The average click-through rate on AdWords paid search ads is about 2 percent and anything over 2 percent can be considered an above average CTR.
While two percent is the average rate, it does not mean it is the tell-tale of the ad's failure or success. A high or low CTR percentage could be the failure or success because every industry is different and it all depends!
Our experts suggest that all companies who are investing in PPC ads make sure to ask a potential agency, "how could we improve our current CTR?"
You should always strive for a CTR rate higher than two percent, but it is a goal to shoot for when navigating PPC ads.
Contact Us
We want to hear from you, so what are you waiting for? Contact us today.
Get In Touch
Share this post
Comments