UPDATED: Zero UI: An innovative concept in design
UPDATED: Zero UI: An innovative concept in design
/images/uploads/blog/Omaha-Media-Group-08.12-Blog_.jpg
Omaha Media Group
https://www.omahamediagroup.com/images/uploads/monster_gallery/Omaha-Media-Group-Black.jpg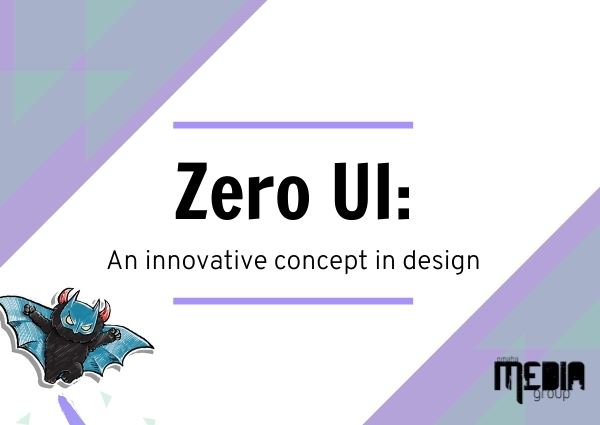 "Alexa, play Taylor Swift's new album." "Google, where is the best sushi restaurant in Omaha?" Amazon, Alexa and Google Home's have all become an important part of most of our lives in some way or another. It was estimated that over 50 percent of search queries would be with voice search this year alone. With the rise in voice search on mobile devices, companies have another design element on their hands when it comes to their website.
Not only does this involve voice search, but at the same time, this also means the rise in Artificial Intelligence (AI) and it will have an impact on the searches! As a society, we are technologically savvy. The latest technology has capabilities that 10 years ago seemed lightyears away, and because of this, website design and development has to be able to keep up with the latest development in our technology savvy world.
What is one way that this can be done?
Zero UI Design
This is known as Zero UI in our industry. Zero UI focuses on an interface that cannot be clicked or tapped. This means Siri, Alexa or even other AI features available. This is done through what is known as Graphical User Interface (GUI).
GUI is a type of interface that allows users to interact with electronic devices through graphical icons and visual indicators as opposed to text based interfaces. What does that even mean?
This means that our laptops and desktops are text based interfaces that we are required to interact with and manually use; while on the other hand, something that is zero UI does not require this such as face recognition to unlock your smartphone. This moves away from traditional searches and moves towards a different future.
It uses much more natural interfaces such as voice and artificial intelligence. Zero UI focuses more on the concept of invisible interfaces. Zero UI is simply a smaller branch of training computers to help us understand the terms we define rather than vice versa.
How will zero UI affect design?
Zero UI is bound to dynamically change the whole concept of design. It will involve predictive thinking. The designer will have to be able to think from multiple perspectives and employ thought processes that work from every angle rather than stick to a single line of thought.
Until now, UI design has always made use of linear designs. With zero UI design, designers will have to use a whole new set of tools and software to handle the non-linear aspects of designing zero UI.
When trying to design an interface based on the concept of zero UI, a designer will have to be aware of certain behavioral data and find out ways to process such data. This means that designers will now have to have ample knowledge in data processing based on biological and psychological aspects.
It is predicted that this year, nearly 30 percent of all web activities will be carried out without screens. This is a huge leap as far as technology is considered.
Zero UI will evolve through the use of wearables, data analytics, sensors and a number of other complex concepts. In fact, zero UI will not be limited just to the mobiles we hold in our hand. It can be trained to be used at home, at our workplaces, in our cars, the possibilities are endless.
What does zero UI mean for users?
Zero UI is a concept that is targeted to better interact with technology. It is a medium that employs all our senses to give a pleasurable and more intuitive interactive experience.
Zero UI is already in its developmental stages and there are a number of examples. Think about the Amazon Echo which is controlled by voice commands or perhaps the Microsoft Kinect controlled by gestures. All these concepts herald the beginning of an era where the use of screens are more less a diminished outlook.
Zero UI will also reduce a large fraction of the time that we currently spend on our mobiles and our computers. A screenless environment enables users to get on with their lives without the interference of buttons and keypads. This means that we will be able to complete a number of tasks quite efficiently. With Zero UI, devices will begin to respond largely on the basis of contextual data.
What do you think about Zero UI Design?
Contact Us
We want to hear from you, so what are you waiting for? Contact us today.
Get In Touch
Share this post
Comments