UPDATED: Five tips to help you with email marketing to boost your holiday sales
UPDATED: Five tips to help you with email marketing to boost your holiday sales
/images/uploads/blog/Omaha-Media-Group-11.14-Blog_.jpg
Omaha Media Group
https://www.omahamediagroup.com/images/uploads/monster_gallery/Omaha-Media-Group-Black.jpg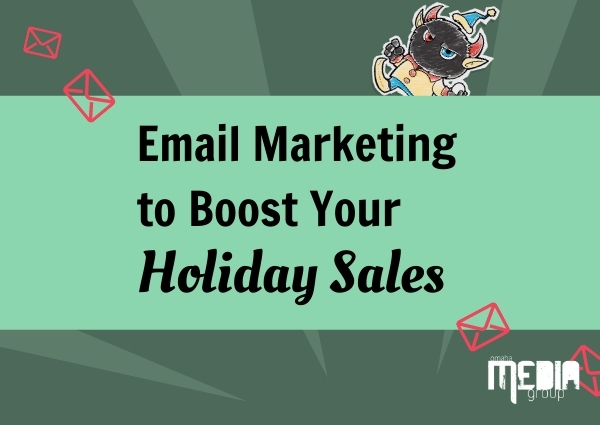 The holiday season is not only a time of merriment but a time when along with all kinds of spending, discretionary spending also goes up. It is estimated that consumers will spend an average of $691 this holiday season.
With November and December being some of the largest "cyber holiday months" and shopping projected to move online and spending to continue to increase, email marketing has never been more important.
It is an interesting period for most companies and even if you don't sell products that complement the festive mood, in particular, you could still get new leads or increase sales conversion because your prospects are in a mood to splurge!
But with too many companies setting their eyes on this small "window of opportunity" to either introduce and familiarize themselves and their services to a new lead or inviting old customers and clients to take part in holiday sales and events, it is extremely competitive and everyone has to jostle with others to get the attention of their prospects.
You will need to stand out from the crowd. One advantage of this is that they already subscribed to your email marketing campaigns, which means, they want your content.
Here are our email marketing holiday tips for all companies that are looking to end their own year jolly and bright.
Email marketing holiday tips
1. Organize your email database
You may have a vast database and if you don't organize it periodically, it may be cluttered. Sending messages to invalid email addresses or the ones which are no longer in use is a sheer waste of time and effort.
Hence, before starting with the all-important holiday season email campaign, you will need to optimize the list. Try to determine the new addresses of old clients and if they have changed their email ids. This would increase the CTR (click through rate) and also reduce the bounce rate which could mean more sales.
2. Setting the time and other parameters of the campaign right
The message is not the only important parameter that would determine the success of your holiday email campaign. The time at which you send the emails, the number of times you send the same message, the frequency of your messages during the holiday season, the gap you leave between consecutive emails and of course the tone of the messages are important.
Keep the holidays alive, even if your products or services are not directed towards the holiday season. Use A/B testing to understand which campaigns are working best and use data from your earlier campaigns to decide whether you should persist with your normal email schedule or change it for the occasion.
3. Use holiday graphics in your email
Use holiday photos, small videos, GIFs, background music or themes with the emails. But, don't overdo it. It may clash with some cultures and some may conceive your effort as being steeped in overly cultural or religious overtones and take an exception.
4. Send gifts
Holidays are popular for one more reason: people, young and old, exchange gifts in the festive spirit. Everyone likes to get a gift and this is one way to show how much you care for your old customers, new ones or prospective customers is to send them small gifts
E-books, webinars, promotion codes, early bird and late bird promotion, but keep the offers time bound because this would get your customers to act quickly and positively to your CTAs.
5. Integrate social media channels with your emails
A great way to promote your holiday marketing strategies is to make sure that social media marketing is working with your email marketing campaigns. If a campaign is sent out on Dec. 10 at 11:30 a.m. CST, the social posts should go out as well. What about follow up emails? Send out social posts as well! When an email is sent out, get it out strategically on social media!
Those are our top five email marketing holiday tips that can even be used without the holiday season rush!
Contact Us
We want to hear from you, so what are you waiting for? Contact us today.
Get In Touch
Share this post
Comments