Breaking through the noise: How to break through during election session
Breaking through the noise: How to break through during election session
/images/uploads/blog/Omaha-Media-Group-10.07-Blog_.jpg
Omaha Media Group
https://www.omahamediagroup.com/images/uploads/monster_gallery/Omaha-Media-Group-Black.jpg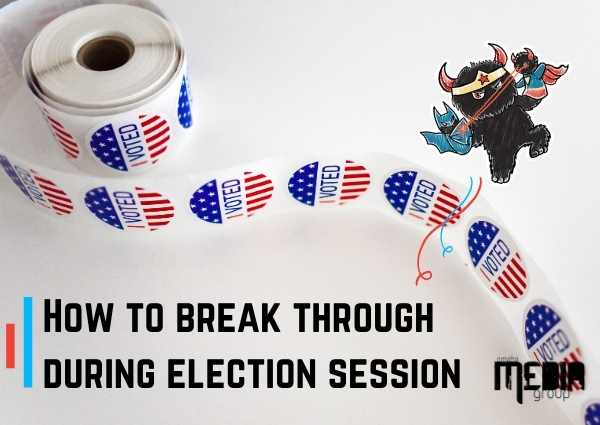 Social media has changed the game in many industries from niche startups who are searching to garner the attention of their niche audience to our political campaigns in the United States.
At one point in the political campaign, if you did not have deep pockets or deep connections, it was nearly impossible for a presidential candidate to make their way in the media, but social media and politics has swiftly changed this notion for those who are running for all elections, not just presidential.
The presidential campaign is only weeks away at this point, and with the latest attempt to stop spreading "fake news" Facebook advertising released that during the week Oct. 25 no new presidential campaigns can run on their platform which would include Instagram as well.
Yes, this means that advertisements that are approved from Facebook before Oct. 25 will have the ability to run during this timeframe; however, for those who are cutting it close this could be a challenge.
Joe Biden has spent over $65 million alone on advertising on social media platforms and traditional media outlets as well, and research studies show that the utilization of social media within political campaigns can help to garner a higher and more favorable following for said candidate.
A great example is Twitter. Each and every day there are new trending topics in regards to the current upcoming elections, and with the current POTUS utilizing Twitter quite frequently, this can help to garner more followers who are willing to vote for him again this election.
Social media is a powerful tool in politics, but with so much that has happened in the last couple of months, how can a company break through the political noise?
Fatigue has set in
As of a recent Pew Research study in July, consumers are feeling the fatigue set in with the presidential election that is underway. The research study showed that 55 percent of American adults are "fatigued" with the political posts and campaigns that are appearing on their timelines and this was true across the board between both political parties.
This means that consumers are ready for other content to be hitting their timelines, and with fewer Americans feeling comfortable to engage and speak about politics on their social media channels, the holiday seasonal marketing campaigns could be perfect to break through social media and politics.
Be human
A modern day consumer is searching for more than a product and/or service for a one time investment, these modern day consumers are searching for products and/or services that align with their ideologies and passions.
A sense of community is often something that a consumer is searching for as well, and with consumers being bombarded with products and/or service advertisements on social media channels as well, it is important to reach them on a personal level. Explain your "why" behind everything, ideologies, core values, show philanthropist moments, show real people and share content from other consumers.
While it is the holiday season and holiday shopping has no intention of slowing down or spending to be minimized, it is important to post other content within the advertisements and sales.
Advertise elsewhere, if need be
If you are wanting to advertise, there are other options such as PPC ads on search engines. These advertisements are a bit more expensive than traditional social media advertising, but it can bring in even more leads and sales because there are no restrictions on demographics.
Be yourself
Now is not the time for brands to try to be someone or something they are not. It is important to continue to increase brand awareness and provide a positive experience whether it be on your company's website or social media channels. It takes one negative experience to break a consumer from ever purchasing your products and/or services again! Be human and be yourself.
As for social media and politics, it is the world that we currently live in. There is no way to change this on social media outlets, but companies who continue to be themselves and market the right way can easily break through the noise.
Contact Us
We want to hear from you, so what are you waiting for? Contact us today.
Get In Touch
Share this post
Comments