Avoid these four social media mistakes
Avoid these four social media mistakes
/images/uploads/blog/Omaha-Media-Group-02.23-Blog_.jpg
Omaha Media Group
https://www.omahamediagroup.com/images/uploads/monster_gallery/Omaha-Media-Group-Black.jpg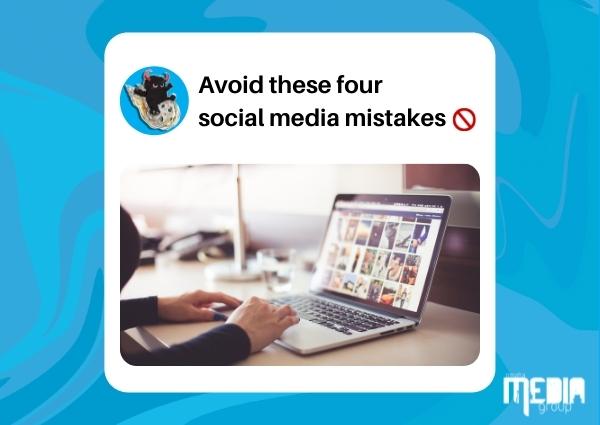 Social media marketing is one of the most common and important digital marketing strategies to raise brand awareness and increase qualified website traffic and even leads. However, social media marketing only works as well as its strategy, and without a full understanding and strong strategy in place, many will see it falter.
While social media continues to evolve with changes to Facebook and Instagram feeling as a constant, the strategy should still stay true to the basics.
Here are the most common social media marketing strategies to avoid from our social media marketing experts Omaha.
Sales are great, but keep it to a minimum.
In the beginning, many companies find themselves ramping up their business on social media platforms while trying to get as many leads as fast as possible, this can cause promotions to continue to grow and grow.
But in the process of all of this, it can cause the opposite effect. There is a point where oversharing and selling can be harmful to a brand. Research shows that too many promotions can cause a 50 percent decrease in customer trust in your brand.
What should companies do instead? It is important to follow a guideline that promotes the company but also informs customers at the same time. This ratio can be divided into 80/20, 70/30, or in less common instances 60/40.
Another effort is called social selling! As OptinMonster states, "you'll be interested to know that the most successful businesses on social media don't always go in for the sales right away. Instead, they start by building a relationship and nurturing prospects."
Social selling is all about creating a community first and foremost, then eventually adding sales into the social media marketing mix.
Buying followers
Our social media marketing experts Omaha always tell clients and potential clients to never buy followers. The act of buying social media followers is the most common on Instagram. However, as Instagram has removed the Instagram Stories option that was once only available to accounts with over 10,000 followers, but with the new changes, this allows any creator or business to add a link to their story.
Another thing to keep in mind is that Instagram purges out fake accounts on a regular basis. So, even if you buy followers for little to nothing, it won't help in the long run.
Our recommendation is to follow the social selling strategy above, and for Facebook, there are options to run ads to get more engagement with your page, and in return, this helps with improving followers on Facebook!
Inconsistent content calendars
A content calendar is a calendar of all social media marketing posts, stories, going live, blog content, or really anything else that pertains to your overall marketing strategy if need be. The problem with the content calendar is that there can be inconsistencies that start to happen.
One week there is an overload of content, and for the next few weeks, there is nothing. A content calendar has to be maintained in order to get the results that companies are searching for out of their social media marketing efforts.
This mitigates smaller, rookie mistakes and keeps the company on track for success! If your current content calendar isn't working, check out this guide and some free ones to download!
What's your brand's voice?
A common question that any social media marketing experts Omaha will ask a new client is "what's your brand's voice?" This is a bit of a difficult question because it is the preface to all marketing efforts moving forward.
Is the tone professional? Casual? A bit fun? For those searching to enhance or figure out their brand's voice, here is a step-by-step guide from CoSchedule.
It's important to avoid these four social media marketing mistakes to ensure a successful marketing strategy over time! Don't throw spaghetti at the wall in hopes it will stick. It eventually comes down.
For help with social media marketing or other digital strategies, contact our social media marketing experts in Omaha!
Share this post
Comments