Expression Engine Conference 2018
Expression Engine Conference 2018
/images/uploads/blog/eeconf-2018-omaha-media-group.png
Omaha Media Group
https://www.omahamediagroup.com/images/uploads/monster_gallery/Omaha-Media-Group-Black.jpg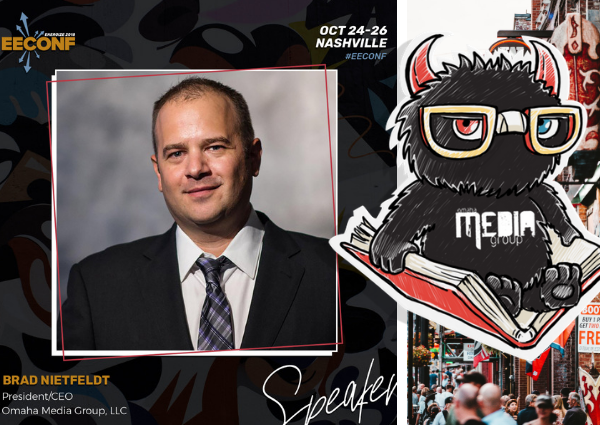 We're excited to share that our President and CEO, Brad Nietfeldt, will be speaking at the 2018 ExpressionEngine Conference in Nashville, TN! Part of our team will be headed south October 24th through October 26th to represent Omaha Media Group, root Brad on and to learn from the best!
This community-powered conference features three days of the best web developers, designers, and digital agencies, in the web development industry!
This years speaker lineup is stacked with other professionals like:
Kevin Cupp, Senior Software Engineer with EllisLab. He's a seasoned professional in developing ExpressionEngine, web and app design.
Patrice Embry, Freelance Digital Project Manager. Her journey in the digital world began by pioneering an ecommerce music company in the 90s! She's worked on an array of projects, both large and small, and currently acts as a freelance project manager.
Reuben Johnson, Co-Founder and Digital Director of Fly Media Productions. Reuben takes pride in thinking outside the box and creating a noteworthy brand for a number of public figures. We're excited to see his passion in bridging culture and commerce.
James Mathias, CCO of EllisLab. His best practices in UX/UI design are second to none. And his beard. Mainly, his beard.
Tracy Osborn of Hello Web Books is a solo founder of a venture-backed startup. She's also a self-published author of three books, a designer, and had a knack for follow through. We're anxious to hear her speak about her drive in launching projects.
If you'd like to read up on the other fantastic speakers, please click here! They're all noteworthy, without a doubt!
What we love about the ExpressionEngine Conference
First and foremost, we firmly believe there's a great difference between networking and creating community. EE Conference creates community, and we LOVE community.
Working with some of the most creative and like-minded people in the tech and digital industry gives us a healthy lead in growth and innovation that we're excited to bring to our clients here in Omaha.
We asked a few of our EECONF attendees here are Omaha Media Group what they enjoyed about the conference last year.
Steph, our Graphic Designer says, "As a graphic designer it was very interesting for me to get some insight into the non-design aspects of site building. One thing in particular I learned is that there are legal requirements for making sites accessible for disabled persons - something that I had never considered before."
Jacob, OMG Junior Developer said, " I very thoroughly enjoyed the workshop on building Add-Ons. It definitely helped me re-imagine how I/we build out our applications."
John, Lead Developer, "My favorite thing about the conference is interacting with presenters and attendees who use ExpressionEngine and learning the similarities and differences about how they manage and develop projects compared to how we do it. The similarities are an affirmation that we're doing things the best way and that we're not crazy. The differences make me things about things differently and sometimes push me to make tweaks or completely alter my approach going forward. It's a fascinating, and at times, challenging learning experience. I also learn just as much talking to the different groups at the party, not just in the conference hall with the presenters."
EECONF is a great conference for web developers and designers, graphic artists in the web world, and digital agencies. We're thrilled to have been a part of this community for many years and really look forward to this year in Nashville!
Contact Us
We want to hear from you, so what are you waiting for? Contact us today.
Get In Touch
Share this post
Comments