Four ways small businesses can improve their social media presence
Four ways small businesses can improve their social media presence
/images/uploads/blog/Omaha-Media-Group-09.28-Blog_.jpg
Omaha Media Group
https://www.omahamediagroup.com/images/uploads/monster_gallery/Omaha-Media-Group-Black.jpg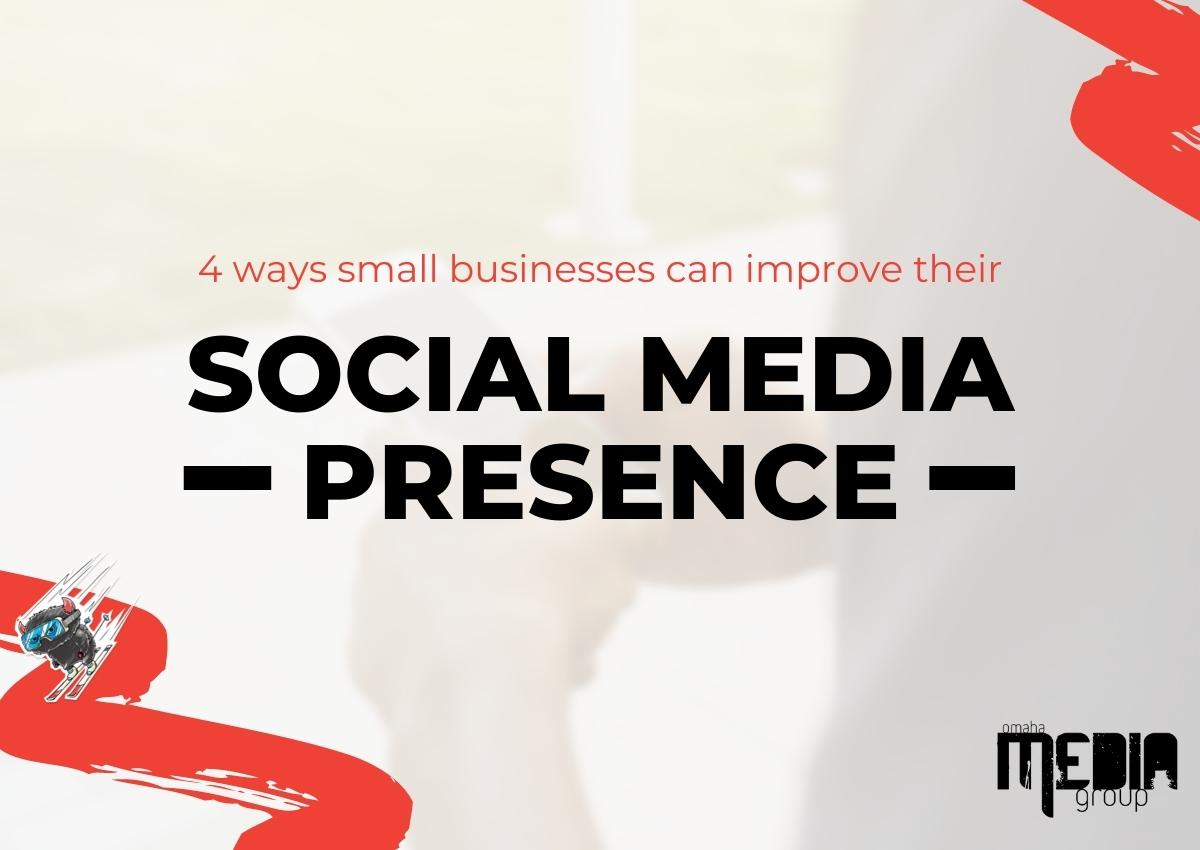 Aside from having a good website design, small businesses need quality social media marketing on their must-have list. Social media has become one of the best ways for customers and businesses to stay connected. You can handle your business's social media yourself or outsource to an Omaha social media marketing firm, like Omaha Media Group.
Social media marketing is using social media platforms to connect with your audience to build your brand, increase sales and drive website traffic. The benefits of social media marketing for small businesses are endless, but some top ones include communicating directly with customers and building brand awareness. If you are not getting the results you want to see, here are a few ways to improve your social media presence.
How to improve social media for your business
Use the right social media platforms
A common misconception that businesses have is that they need to be on every social media network to be successful. This is far from the truth. Small businesses should only be on social media platforms that their target audience is most likely to use.
For example, if you are a retail business, there are only a few social media sites that would be useful to you. In this scenario, Facebook, Instagram and Pinterest are the most recommended platforms for your business. On the other hand, Twitter and LinkedIn are not recommended because your shoppers will not be using these networks to buy your products.
Create goals for your small business
After you have picked out the social media platforms you will be on, it is time to create goals. Setting clear goals can help keep your social media on track, ensuring you get the most out of your social media marketing. Plus, it can also give great insights and keep your budget in check.
To create social media goals, you should first look at your overall business goals, define your social media strategy and set SMART goals. Some common social media goals that businesses make include:
Increasing your brand awareness

Driving website traffic

Boost brand engagement
Create a social media strategy
Once you have determined your business's goals for social media, it is time to develop a social media strategy. This kind of strategy encompasses everything your business plans to do, what you actually achieve on social media and your overall progress since you started.
Make sure to also define the responsibilities that your team will have on social media. To develop a social media strategy, Omaha social media marketing firm experts recommend:
Setting SMART goals

Figuring out your target audience

Looking at your competition

Doing a social media audit

Setting up accounts and improving profiles

Looking for inspiration

Creating a social media calendar

Starting creating content
Engage with your followers
It is not enough to just be posting on social media. As a business, you should also be taking time to engage with your followers. Regular social media engagement can significantly help small businesses. This term refers to the measurement of comments, likes and shares a company's social media gets.
Of course, it is a goal for companies to grow their audience, but they also should want an engaging audience. At the end of the day, social media is all about being social. Some ways to increase social media engagement include:
Post engaging content

Respond to all comments

Ask questions

Share content that is relevant to your audience

Interact with other accounts
Improve your business's social media with an

Omaha social media marketing firm.

Grow your social media presence with the help of Omaha Media Group. Our digital marketers have the knowledge and experience to increase your social media presence. They also take care of everything from creating content to managing accounts. Contact us to get started.
Contact Us
We want to hear from you, so what are you waiting for? Contact us today.
Get In Touch
Share this post
Comments