Get the Best Out of Your Live Video Content with these Tips
Get the Best Out of Your Live Video Content with these Tips
/images/uploads/blog/GET_THE_BEST_OUT_OF_LIVE_VIDEO_CONTENT.png
Omaha Media Group
https://www.omahamediagroup.com/images/uploads/monster_gallery/Omaha-Media-Group-Black.jpg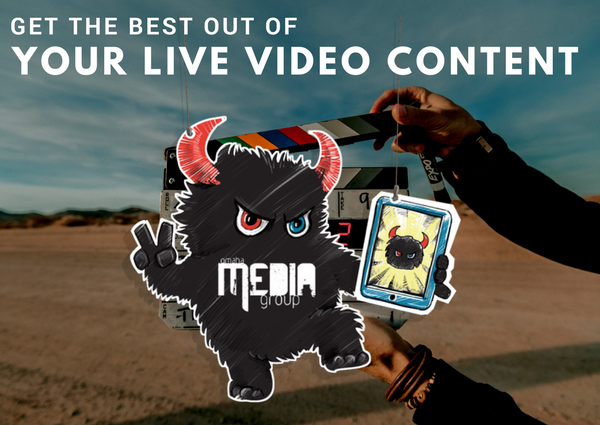 Live video and live streaming are the buzzwords of the year and it's easy to see why. Live streaming allows businesses to reach their customers with ease. Every moment can be shared as it is happening, allowing companies to keep their customers engaged constantly.
Time to start recording
Live video content happens to be a great tool to build credibility with your audiences as it is extremely difficult to place fabricated content in a live video.
But, while it offers marketers multiple benefits, live streaming is also quite challenging to implement. Here are some ways in which you can get the best out of your live video content:
• Select the right platform to start
Your first live video is a really important one. Research shows that 80% of customers prefer to watch live video content from a company than read a blog published by them. Your customer acquisition can be impacted by your live streaming.
From Facebook Live to Periscope, you have multiple platforms that you can choose from. It's important to identify who your audience is and where they would most likely be available before you select the platform.
• Promote yourself across platforms
In this age of social media, your customers are bound to be on various platforms. Sharing or live streaming yourself across platforms is the best way to keep all of your customers and followers engaged.
• A mix of the 'scripted' and 'unscripted'
While it is essential to follow a plan of what to cover in the video, it is important to avoid appearing robotic. If something unexpected happens during the streaming, just go with the flow. You could create pure magic with these unanticipated moments.
• Videos can be marketing, but they don't have to be
Your live video is the best place to show a product or service demonstration or to advertise your event. At the same time, you can also use the live video to just engage your customers. Not every video has to be a marketing effort.
• Respond to instant messages immediately
Facebook Live allows viewers to instantly send messages and likes to video streamers. If you receive a message from an audience member, make sure you respond to them immediately. Actively responding to your audiences will keep them engaged and bound to you.
• Retain a little mystery
Keeping your audience on tenterhooks is the best way to have them view your successive videos. Retain information and ask them to wait for your next live stream.
• Make the video available long after the streaming
Some of your audience may not have been online when you live streamed. It's best to make your video available even post-streaming, as it will help you retain your existing audiences and keep the engagement activity going on long after the live streaming.
• Analyze view-rate and implement changes
Lots of social media platforms have in-built engagement analysis tools. Use them to understand your engagement levels. Implementing the insights you get will help you create better live videos in the future.
Can we help you start live streaming? Contact us!
Contact Us
We want to hear from you, so what are you waiting for? Contact us today.
Get In Touch
Share this post
Comments