How many ways can you repurpose one piece of content?
How many ways can you repurpose one piece of content?
/images/uploads/blog/Omaha-Media-Group-06.20-Blog_.jpg
Omaha Media Group
https://www.omahamediagroup.com/images/uploads/monster_gallery/Omaha-Media-Group-Black.jpg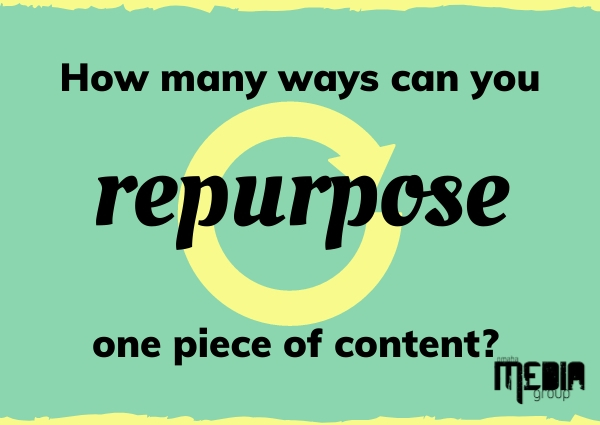 Content marketing is one of the critical elements in the digital marketing industry because without the content there would be no marketing involved! Even search engines need content marketing strategies to help elevate the on-page and off-page optimization that is being set in place!
Omaha Media Group has had hundreds of CSGs over the last 10 years and there are common reoccurrences that continue to show up in our meetings with potential and existing clients regarding content.
Oftentimes, a company is holding themselves back due to a number of reasons from a lack of overall understanding to everything being perfect.
As Gary V said, "the reason why people don't make content is because they overthink and overvalue the production of their message."
Now, Gary V. is not telling anyone to simply be posting content, but what Gary means is that companies are so immersed in their day-to-day operations and are worried about, "it being perfect" that they never start!
At Omaha Media Group that is one of the most common notions we hear from clients, "we just want it all to be perfect and couldn't move past that."
Our Digital Marketing Strategist handles all of this for a company each and every day. It is their full-time position to create that "perfect" content that your company has been searching for on social media, search engines and other spaces of the digital world!
The thing with this is that one piece of perfect content can be repurposed and distributed up to 64 different ways! The thing with quality, evergreen content is that it can be reused for years to come, and here is why a company should repurpose digital content in their marketing strategies.
Why should marketers and companies

reuse content?

The thing with old content is to not just pick a piece of content and call it a day. To properly and effectively reuse content, it should be content that ranks in search engines or has consistent website traffic.

Why does it matter if the piece of content is ranking? Well, it does not, but it does make life a bit easier for two reasons- you know the content is being consumed by enough people to start its ranking and it is optimized for SEO. Oftentimes, a marketer or company thinks that updating content means a whole new blog, but in reality, it is just a couple of updated statistics, maybe an infographic, a YouTube video and switching out some old links!

Bada, bing, bada boom, that is really all you need to boost the content in SEO!

In many cases, the original content reached your audience, but over time, you have gained new followers and website visitors, which means that these old FAQs should be highlighted again! It might seem redundant in the marketer's or company's eyes, but in reality, it is one of the most effective ways to drive traffic to specific content and landing pages!

It can help to create better trust and authority in the topics and within a search engine's result pages! This is because a consumer has to see your brand in their feed, search results or digitally a minimum of seven times before they start to trust you. After about 15 times, a consumer might purchase a product or service, but you have to get the company out there 15 times!
Now, let's

repurpose digital content!

As Gary V states there are 64 ways to take one piece of content and promote it over seven different platforms!, We are not going to show you 64 different ways to do this, sorry!

First, figure out what content is ranking and continues to rank over time, that is the content that consumers want to consume! That can be found in Google Analytics or any other analytics tool that your company uses for website traffic.
A little fun fact, a majority of the content that ranks on search engines is about three years old! Yes, new content does rank, but a number of articles listed here are at least two years old!
Let's take a look at "The Importance of User Interface (UI) Design." Great, evergreen blogging content that has jumped in SERPs over the last two years. How can we make this into different content?
We could take this blog and turn it into a guide such as, "The Ultimate User Interface (UI) Design Guide!" You can add some videos, updated sources and even more.

From there, you can take this content and create it into an e-book if there are several other blogs that are similar to this category! Distribute this in an email campaign, add it to a landing page or optimize for SEO! The possibilities are endless!

The ability to turn that into an email campaign directs people to the guide and promote this on social media platforms!

Another way to promote this blog is to take the most important notions and tease it in different ways on social media platforms! This also allows for some trial and error to see what type of images or copy is attracting consumers. It can highlight one section and go to the link or highlight one section and go to another page!

Create a "#TuesdayTip" or "#FAQ" on social media that pulls information from the article. This tip could be "#WebsiteTip" "#WebsiteDesignProblems" "#WebsiteDesignTips" or anything of the sort on social media!

Create a YouTube video! All of your speaking points are in that blog! A quick video would be seamless. The hardest part would be the transcription!
There are six different ways to reuse content that is currently and consistently ranking in search engines!
For help with content marketing or other digital marketing strategies, contact us today for a free virtual consultation!
Contact Us
We want to hear from you, so what are you waiting for? Contact us today.
Get In Touch
Share this post
Comments