How to promote your mobile app
Mobile app promotion
How to promote your mobile app
/images/uploads/blog/Omaha-Media-Group-00.00-Blog_.jpg
Omaha Media Group
https://www.omahamediagroup.com/images/uploads/monster_gallery/Omaha-Media-Group-Black.jpg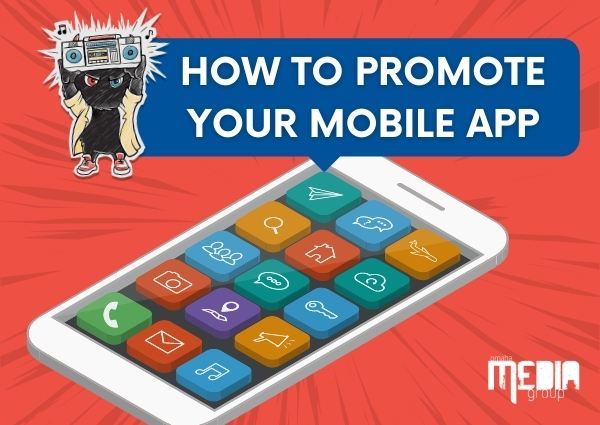 For companies in the finance, gaming, mental health, fitness, lifestyle and hundreds of other industries that mobile apps apply to, it is important to have a successful launch just as much as a successful design and development.
An app will only be successful if it reaches the right audience. The first step in every launch is awareness and a soft pre-launch that sets the stage for brand awareness and visibility in apps stores.
Now, there are many methods of promoting your mobile app. The nature and purpose of the app would dictate to a great extent the promotion method.
While promotion is a key component of successfully launching an app, it doesn't have to cost a fortune. Here are the top ideas on how to promote an app once it is ready to launch!
1. Social media marketing
Organic and paid social media strategies help to build brand awareness to the right audience, and at the same time, help to start nurture the future lead generation. It is imperative that your company understands the audience before creating social media accounts.
Is your target audience on LinkedIn or Facebook? It could be both, but is there one majority over another?
While social media is a valuable tool for all companies and startups who are launching their app, it is important to market on the right platforms.
Another free place to advertise and connect with your audience is in Facebook and LinkedIn Groups! This directly reaches those who you are targeting and where they are directly communicating! Be careful with group restrictions! There are groups that will not allow you to promote products and/or services, but this is explained when you go to sign up for said groups!
Facebook ads allow the advertiser to be extremely specific about the target. Pick the right demographic group and use behavioral and psychographic analytics to be more specific so that only those with specific needs for your mobile app are shown in the advertisement. If your app is more oriented towards business users, you can try LinkedIn to find your audience.
Just like organic seo strategies for your website, a mobile app in the Apple or Google Play store needs to be optimized! It is imperative for visibility and discovery purposes in an oversaturated market. One of the best ways for mobile app promotion is with these tips to ensure that your app is optimized to outrank the competition:
Keywords: Are they relevant to your industry and app?

Description: Your description will clearly identify your app, is it articulate and detailed about the value of your app to consumers?

Ratings: Do you have any ratings? If so, it is important that there are more positive than negative ones and be as close as possible to five stars.

Add video tutorials: This gives consumers a chance to view the main points of the app that they would like to see.
3. Public relations
Public relations is still one of the best ways to get the right attention for your mobile app promotion. This is because news outlets, influencers, audiences and other companies will see or hear more about your app from the PRs that get distributed.
This helps to generate excitement and awareness and PRs are a great way to get backlinks from high authority websites.
Another way is with a newer practice which is guest blogging. Neil Patel states that there are three main goals of guest blogging, "Positioning yourself as an authority and well-known name in the industry. Getting exposure back to your website and building backlinks to your website."
With the right partnership and guest blog, a company can find itself positioned higher in search engines, even as a newer company.
4. A website
While your company has an app, an online presence is necessary for the strategies above. This is because it creates legitimacy, and without a website, you cannot get backlinks from guest blogging, other blogs and the PRs will kind of be a dud.
The website doesn't need to be extravagant, but it does need to be the center for digital marketing strategies.
Can we help you develop and find the best ways on how to promote your mobile app. Contact us!
Share this post
Comments