Local SEO for companies without a physical location
Local SEO for companies without a physical location
/images/uploads/blog/Omaha-Media-Group-09.22-Blog_.jpg
Omaha Media Group
https://www.omahamediagroup.com/images/uploads/monster_gallery/Omaha-Media-Group-Black.jpg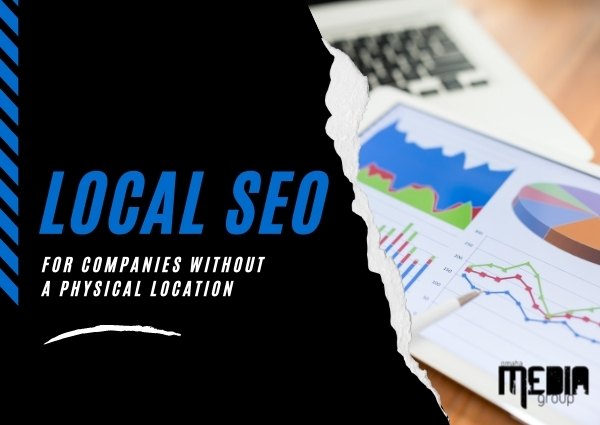 The pandemic catapulted a number of different industries into overdrive and remote work life really took off. With companies like Instagram, Shopify, Twitter, and other larger tech conglomerates all allowing employees to work from home or remotely permanently, other small to large companies and businesses followed suit.
However, if your company decides to sell its storefront and go fully remote, what does that mean for SEO?
Can you still implement local SEO?
Do you have a website? Do you have paperwork stating you are in fact a business? Then yes, you can implement local SEO strategies the same way that companies with a physical storefront can. The only change would be to your Google My Business listing!
Let's talk about Google My Business first.
Google My Business
Google My Business is a free marketing tool that is heavily used in local SEO strategies. Any local SEO expert would suggest a business set up a Google My Business account immediately. However, without a physical storefront, it can be difficult to set one up or even be allowed to have a Google My Business account.
These are the three things to never do based upon Google's Guidelines.
Don't purchase a P.O. box just to "have" an address

Don't use employees or relatives' addresses

Don't use personal, vacation homes, or other unclaimed property as a physical location
Be careful about overpromising when it comes to not having a storefront. Overpromise and underdeliver and consumers will walk into another business' doors. (Literally).
So, who can have a Google My Business listing without a physical location?
Service Area Business (SAB)
A Service Area Business (SAB) is defined by Google as, "A business that visits or delivers to customers directly but doesn't serve customers at their business address. For example, businesses like cleaning services or plumbers. Service-area businesses can only create one profile for the metropolitan area that they serve."
These types of businesses that technically do not have a real storefront location benefit the most from local SEO and their Google My Business listing. This is because these types of businesses need to rely on proximity and relevance more so than location.
The requirements make it so that a SAB cannot set up a boundary that exceeds over two hours of driving time from the given location to Google, but a company can have up to 20 service accounts.
This means that a company can still implement local SEO with the same hyper-focused strategies that involve local keywords, content, backlinking, blogging and so many other factors implemented by a local SEO expert.
This means that virtual or home-based businesses are not eligible for a Google My Business listing, but don't let that stop you.
How do you implement local SEO then?
The best part about the internet is that there are millions of companies like Dollar Shave Club, Credit Karma, and ecommerce companies who are all in the same boat.
The second best part is that you can still implement a local SEO strategy without worry.
1. Highlight your city on your website
Even if your company is a virtual or home-based business, that doesn't mean you cannot implement a city or top location on your website. This means adding location-specific keywords within title tags and headings.
"Omaha, Nebraska Virtual Assistant" or even "Lincoln Virtual Secretary". This shows potential clients and customers that you are located in the city and not internationally. When it comes to local searches, you will want local-specific keywords as much as possible.
2. Create local content
If you are creating content and implementing SEO, local content is the key to ranking with these strategies. It is important to brainstorm topics for landing pages and blogs themselves that are relevant to search queries with a local intention behind them all.
When it comes to blogging it is important to write relevant content around the industry. What season is it currently in your city? Is it the fake fall, but in days, it could start fall season? Write a blog regarding the trends, how-tos, checklists, or any other important information that consumers want to know or need to know in your area.
When it comes to writing content for landing pages, you will want to write content with the local intention behind it with the end of the sales funnel in mind. At that point, those local customers are searching to purchase or learn more about a product or service.
3. Implement backlinking
Whether you are in a physical or non-physical location, any local SEO expert will suggest implementing backlinking strategies.
Backlinking is the process of building links between your website and other credible websites on the internet within your industry. Who is the industry expert? Who is ranking for every national keyword possible? Those are the type of companies that will have millions of credible backlinks.
This shows Google that the company is deemed credible in the eyes of consumers, and the more credible your website is, the better it is!
4. Hone-in on local keywords
Keywords, keywords, and keywords. This is one of the most important elements that our local SEO experts kept hinting at above. Keywords are the search terms that consumers use to find local products and services, and ranking for the wrong ones even with a storefront can ruin the strategy.
A local SEO expert understands the importance of local SEO because that is part of their specialty. The ability to hyper-focus on those keywords with proper backlinking, content marketing, website redesign and development, and continued marketing strategies all ensure a successful local SEO strategy even without a physical presence.
Read our comprehensive local SEO guidebook for more information regarding local SEO here!
Omaha Media Group is one of the leading creative management firms in the Midwest! For more information on our SEO packages, please visit our contact us page.
Store front or no store front, start local SEO.
Contact us.
Share this post
Comments