Moving your company online during COVID-19
Moving your company online during COVID-19
/images/uploads/blog/Omaha-Media-Group-04.29-Blog_.jpg
Omaha Media Group
https://www.omahamediagroup.com/images/uploads/monster_gallery/Omaha-Media-Group-Black.jpg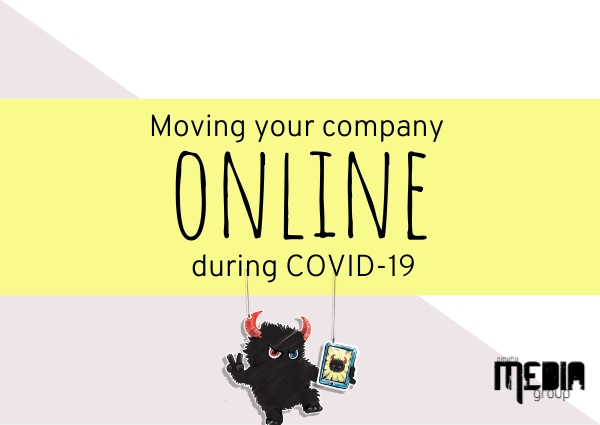 Amid the COVID-19 pandemic, companies all over the globe are noticing an increase in consumers' online behaviors from streaming music and ordering more and more unnecessary items from Amazon. Right now, as brick and mortar store fronts are closed and employees are transitioned to working from home and it comes with its challenges.
Omaha Media Group explains to all companies that during COVID-19 that digital marketing has never been more important. Research shows that there is about a 50 percent increase around the globe of internet usage with platforms such as Zoom and Microsoft struggling to meet demand, companies need digital marketing.
Consumers want to be informed about daily and weekly updates not only about COVID-19, but also about their favorite brands and how they are handling this pandemic.
Millennials and Generation Z are especially concerned about how companies are helping their employees during these times, but updates on their products and services that are offered.
A company may be wondering, "how can we offer our services online during this time?" "How can we transition to the digital age when we have been so far behind."
Our experts break down the top ways that a company can get creative or hire the right professionals to help them handle this transition for taking your business online.
There are three psychological factors that are causing consumers to buy out all of the toilet paper online and in-stores, along with Lysol wipes and any other cleaning products with bleach and sanitizing ingredients inside them because consumers want to feel in control of their situation.
Not only for this reason, for moms and dads and people who care for their family members, but it also helps them to feel as if they are doing their part. They care for themselves, as well as helping those they love.
Finally, consumers want to feel comfortable in their purchasing choices when it comes to products and even services they find online. While consumers are not reading reviews online when purchasing toiletries, they use products that they know will support them in "crappy" times. (We had to!)
This is why some people find that after purchasing a product it helps lift their moods and makes them feel better about themselves or a situation. It is classic retail therapy, but with the panic and psychological factors that a pandemic heightens during this time.
Because of these three factors, even business owners are turning to other companies to help improve their overall strategy and sales during this moment. While they may not be purchasing coffee for the office Keurig, they are purchasing products that will help the company grow and their employees work from home.
Second, get active on social media
Social media marketing allows for a company to increase its brand awareness to increase social media followers, over a billion active users are on social media each and every day! Social media marketing is the easiest way for taking a business online! As social distancing has been extended until June in some cities and states, people are turning to social media to cure their boredom and trying to stay connected with their loved ones.
Social media allows for instant updates to all of a company's followers and anyone else on social media when the right social media strategies are used; however, our experts have noticed that when companies go the DIY route, it does allow for them to create errors and personal opinions are shared that should not be shared.
A company should create or join Facebook Groups. Facebook Groups are groups of like-minded professionals and individuals who all enjoy the same hobby or are in the same industry, in the world of social media, there is a Facebook Group for just about everything.
A company should also be posting to social media on a daily basis with updates and letting consumers know that they are there for their consumers and clients. A company can go live on Facebook Live, Instagram Stories and even IGTV to let their followers know what is going on in their daily business operations. No matter if it is a discount code, advertisements or a weekly update- keep consumers in the know with social media.
Third, shift to an E-commerce mindset
E-Commerce provides any company with the opportunity to provide their products and services online to consumers at any given time, and with no certainty on when this will all change, E-commerce is the way for ALL companies to go right now. The thing is, right now, it is do or die.
A company who does not hone in on their SEO, paid ads, website and continue to get their products and services out in front of their customers will slowly start to realize a decrease in their products and services which is a lack of taking your business online.
A company might be hesitant to start the process of offering products online and its entire logistics behind it, but here are the main benefits:
Ability to sell products 24/7

Easier to scale up or down

No store closing hours

Allows employees to continue to work

Lowering operational costs

Allows for a new business opportunity in the future
It can take up to two weeks or less time for a company to switch over to its E-commerce side of the business for the time they begin, and if they work with the right company, it can all be switched off at the end.
From the real estate industry to the thrift shop world and everyone in-between, companies and professionals who are not adapting to COVID-19 will notice the biggest hit at the end of this six weeks or six months.
For help with taking your business online with a website redesign, E-commerce website, branding, SEO or digital marketing efforts, contact us today!
Contact Us
We want to hear from you, so what are you waiting for? Contact us today.
Get In Touch
Share this post
Comments