OMG Welcomes Tomek!
OMG Welcomes Tomek!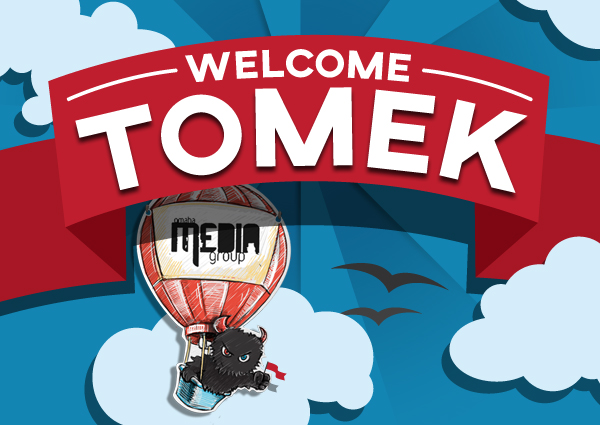 What's up Omaha and beyond! I'm the newest addition to the team here at Omaha Media Group. I want to share a little about myself and my journey which has landed me here at OMG.
I was born and raised in Omaha by parents who immigrated here from Poland and Egypt in search of the American dream. They had a couple hundred bucks and a sponsor who helped them get set up. They took a huge leap of faith and that has always inspired me to never settle and to always explore the world around me. It's a beautiful place and full of adventure.
I have always been interested in building and creating, from my days as junior Lego engineer in my bedroom, to summer robotics classes at North High, to my later days with media production; I've always surrounded myself with technology. I went to King Science Center, then to Omaha North where I was always tinkering and pushing my creative nature into new avenues.
I jumped straight into college out of high school, joining Drake University for a year and then coming back to Nebraska, enrolling in Hastings College. I've played soccer my entire life and college was no exception. I helped the Hastings Broncos to the NAIA Final Four once as a Sophomore and secondly as Senior Captain. Oh the glory days of battling between the white lines. I still kick it around every once in awhile, just at a much slower pace.
I finished up college with a BA in Business Administration and Economics. I immediately joined a buddy in Minneapolis, MN were I worked for a large financial institution only to realize that I needed to get back into the technology sector. I started working for an ERP software development organization which opened my eyes to the enterprise development process and instrumental impact that technology could play in a company. I was itching for more and as a result, I picked up a part time gig at Apple. That turned into a full time gig and me moving back to Omaha. Apple brought upon a number of opportunities to work with customers but also the ability to work with our community's local businesses- anything from a mom & pop shop to Omaha's fortune 500 organizations.
I continued to reach further with Apple and decided to head back to school to pursue my Masters in Management Information Systems from UNO. It was an incredible experience and one that brought me to the forefront of my passion for technology and project management. I finished in December 2015 with my degree and certifications in Project Management and Systems Analysis & Design. One month later I found myself with Apple in Sunnyvale, CA with an internship in their Information System & Technology department as Project Manager. The 6 month experience was amazing and when I returned, I reached out to Omaha Media Group. We had worked together in the past on a number of projects and I knew the organization was involved in projects that would allow me to flex my knowledge muscles and provide valuable perspective.
I am incredibly excited to be apart of Omaha Media Group and officially be a Monster! The empire continues to grow and being able to contribute to the organization and the team dynamic is amazing. I can't wait to see where OMG goes from here!
Contact Us
We want to hear from you, so what are you waiting for? Contact us today.
Get In Touch
Share this post
Comments