Online Marketing trends of 2018
Online Marketing trends of 2018
/images/uploads/blog/2018-ONLINE-MARKETING-TRENDS-OMAHA-MEDIA-GROUP.png
Omaha Media Group
https://www.omahamediagroup.com/images/uploads/monster_gallery/Omaha-Media-Group-Black.jpg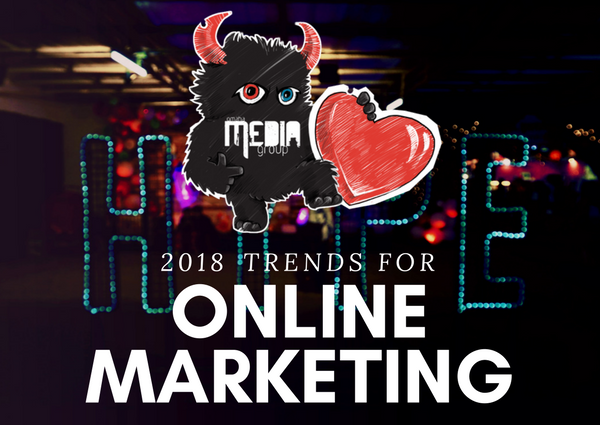 With rapid developments in technology, the way businesses connect with their customers is changing. Companies need to engage themselves with the customers on multiple platforms in order to keep up with the dynamic nature of the customer base.
Most of the social media platforms have become promising avenues for businesses to present themselves. With the combination of capabilities like Big data analytics, customized content marketing, and automated email-marketing, businesses are racing to capture the market share with newer and newer innovative technologies.
Keeping up with the latest trends in marketing is vital for any business, mentioned below are some of the major marketing trends of 2018 that businesses can adopt.
Rising popularity of video content
With Facebook incorporating seamless viewing of videos in their feeds, more and more social media platforms are moving towards integrating video streaming features in their structure. It has been noted that content in the form of video is more eye-catching than text or graphics. One can clearly see the rise in popularity of video content from the recent statistics.
YouTube records a billion hours of video streaming on a daily basis. Whereas, Facebook users come across over 8 billion videos every day. Hence, marketing your services and products through well-made videos over social media is an effective way of targeting a huge customer base.
Marketing through social media influencers
Social influencers are the celebrities of the internet. Their activities are followed and shared by millions across the globe. The opinions and views that they share have a strong footing with the people of the internet. Teaming up with such social media influencers can amplify your brand image and help establish a good image among the customers.
Automated chatbots
One of the most successful trends that companies have adopted are chatbots and social media bots. Chatbots are automated software developed for interacting with the customer and resolving their issues.
With the recent progress in AI and machine learning, these bots are increasingly becoming more powerful capable of simulating real human interactions and thus improving your user experience. Social media are similar automated software that can provide customized advertisements and content based on your choices and tastes.
Augmented and virtual reality
Augmented and virtual reality-technology has the potential to massively transform the UI/UX sphere. Augmented reality can greatly diversify the retail or shop experience of consumers.
Virtual reality can bring the entire experience of going to a mall or a retail store online. By giving the consumers the ability to view products and details in virtual or augmented reality we are providing customers with a new and improved experience that they might connect with.
Marketing trends keep shaping the landscape of every industry. Keeping up with and updating to the latest practices year after year is required to maintain market dominance. In order to always remain one step ahead, planning and brainstorming must be an early and constant part of your marketing structure.
Be it engaging on social media or designing chatbots, marketing requires foresight and preparation from very early stages.
Are you on-trend with your online marketing strategy? It's never too late to start. Send us a message and we'll help you!
Contact Us
We want to hear from you, so what are you waiting for? Contact us today.
Get In Touch
Share this post
Comments