The best times to post on social media
The best times to post on social media
/images/uploads/blog/Omaha-Media-Group-05.25-Blog_.jpg
Omaha Media Group
https://www.omahamediagroup.com/images/uploads/monster_gallery/Omaha-Media-Group-Black.jpg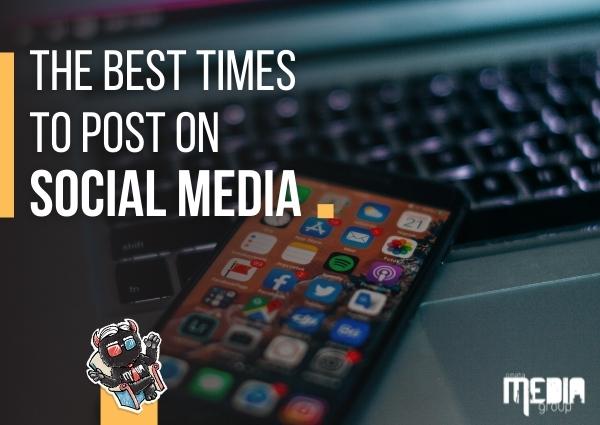 There are 4.65 billion social media users around the world as of April 2022 - that is about 58.7 percent of the total global population. It is no wonder that many companies are joining social media platforms to connect with their current and potential customers.
However, that means that there is a lot of competition as well. All brands want to reach their audience so that they can interact with their posts. A smart way to ensure your customers see your company's social media posts is by picking the best times to post on social media in 2022.
Our Omaha social media marketing firm team has created this helpful guide to learn when the best times are to post on social media.
Why is it important to post on social media at the right time?
One of the most important reasons you should be posting your social media content at the correct times is to get people to see your posts. The more likely your audience is to see your posts, the higher the chances they will engage with your content.
Having good social media engagement is essential to building and sustaining your relationships with your customers. It is important to also look at your social media analytics to determine when your current audience is most active. Hiring an Omaha social media marketing firm can not only help you find the ideal times to post but also help you create a successful social media strategy.
The

best times to post on social media 2022
Facebook
Facebook has had over 2.936 billion monthly active users since April 2022. It is one of the most active social media platforms. That is why many companies use this platform to connect with their audience through posts, videos and even stories. If you are looking for the best times to schedule your content here, it is suggested that you post Mondays through Friday at 3 a.m., Tuesday at 10 a.m. and noon. It is advised that you avoid posting on Saturdays because they are considered the least active days.
Twitter
Twitter is another popular social media platform used by many major brands like McDonald's, Wendy's and many more. It currently has around 330 million monthly active users. This social media platform is a popular choice for those looking to get up-to-the-minute information and trending topics.
If your company's audience is active on Twitter, it is suggested that you post early in the mornings during the weekdays. An ideal time is 8 a.m. on Mondays and Thursdays. Sunday is considered the worst day to post on Twitter
Instagram
Instagram helps businesses grow - this is especially true for e-commerce businesses or those selling visual products and services. It roughly has one billion monthly active users. With that large audience, you need to be choosing the correct times to get the most engagement.
During the week, it is recommended to post between 5 to 6 a.m. According to Later, the best days to post on Instagram are Saturdays and Sundays. The worst days to post are Wednesdays between 10 a.m. to 4 p.m. and Thursdays between 9 p.m. to 11 p.m.
LinkedIn
LinkedIn is a popular social media platform for professionals and businesses. If that is your target audience, then this platform is perfect for your company. LinkedIn has 810 million members with over 57 million registered companies. The best time to post on LinkedIn is 9 a.m. on Tuesdays and Wednesdays. The worst days to post on LinkedIn are Saturdays and Sundays.
Let the best

Omaha social media firm help!

Aside from figuring out which time is best for your company to post, you should be developing strategies that get you the best results.Our social media experts can help you figure it out. Contact us to learn more about our social media management services.
Contact Us
We want to hear from you, so what are you waiting for? Contact us today.
Get In Touch
Share this post
Comments