Things to Split Test in Your Facebook Advertising Campaign
Things to Split Test in Your Facebook Advertising Campaign
/images/uploads/blog/Split-testing.png
Omaha Media Group
https://www.omahamediagroup.com/images/uploads/monster_gallery/Omaha-Media-Group-Black.jpg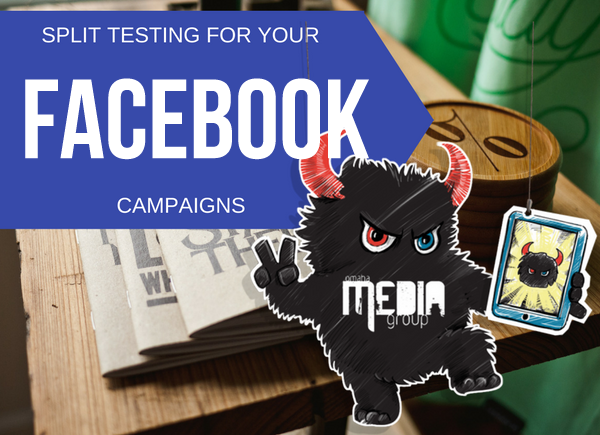 A successful advertisement campaign on Facebook requires a lot of strategizing. Every aspect of an advertisement needs to be tested thoroughly. A split test can help you test different aspects of the same ad when targeting the same audience or test the same ad against different target groups. Split tests give different perspectives to a problem and help you to choose the best not based on your gut feeling but on customer response. It is a very scientific approach and increases chances of success for your campaign.
What is Split Testing?
A Split Test or A/B Test is a method in which two different versions of the same advertisement or two versions of a specific aspect of an ad are tested. They are targeted to the prospective customer groups and then their response and feedback is measured using various tracking software. If the performance of one vis-à- vis the other is seen to be better, the company then withdraws the other ad and moves forward with the more effective one.
For Split Testing to be successful, the advertiser should not only allot the same resources and budget for the different versions being tested but also control the reach and factors that might affect the reach. For example, Facebook algorithm can itself optimize ads and display the ad, which is more popular with a greater frequency over others in the same ad group. However, it can't do it with ads belonging to different ad sets; you will have to do it manually. A number of tools are present that can help you to measure and interpret the performance of an ad based on a single or a combination of metrics.
Things that should be tested in a Facebook advertisement
1. Image
Facebook allows you to upload six images for every ad that you post. It then automatically optimizes the one which suits best or gets best response from your target audience. However, you should use the right human being, animal, logo, color and subject to invoke a solid response. The image should complement the description, headline and caption. Try different colors, compositions, different expressions on the face of a human being or animal to see what reaction the ad elicits. You need to get the image right because it is the component of an advertisement that attracts maximum attention. Studies show that content with relevant images gets 94% more views that content without. You can also opt to create your own image, with tools such as Canva, and upload it instead of opt for one of the 6 that are automatically generated from Facebook.
2. Copy
The ad copy is very important. Copy usually consists of three parts: the heading and sometimes a subheading, the body and text under the image called image caption. The copy is what tells the audience about your brand or product. There must be coherence between different copy elements and together they should be able to sell. Split test the same ad with different headings, subheadings, body copy and even image caption to see the impact.
3. Testing with different audience groups
In Facebook's Ads Manager, you'll find more demographics under which you will find advanced target settings. Facebook tracks almost all online moves of its consumers. That means advertisers have access to different targeting options. An advertiser can choose a target based on different demographic, gender-based, behavioral, psychographic and other parameters. You can also adjust the reach of your ad; choose a combination of targeting options and split test the reach within your audience groups. The one which fetches best match and response should be selected.
Facebook advertising will only be successful if you can find the right mix and match. Unfortunately, there are so many options for advertisers for choosing a particular aspect of an ad that it could get unnerving. Depending on how much you decide to budget for Facebook advertising, you should make sure that you get good return on your investment. Hence, split testing should be carried out at every step for finding the best combination.
Let us help you with your Facebook and social strategy!
Contact Us
We want to hear from you, so what are you waiting for? Contact us today.
Get In Touch
Share this post
Comments