When should I update my website?
When should I update my website?
/images/uploads/blog/Omaha-Media-Group-07.10-Blog_.jpg
Omaha Media Group
https://www.omahamediagroup.com/images/uploads/monster_gallery/Omaha-Media-Group-Black.jpg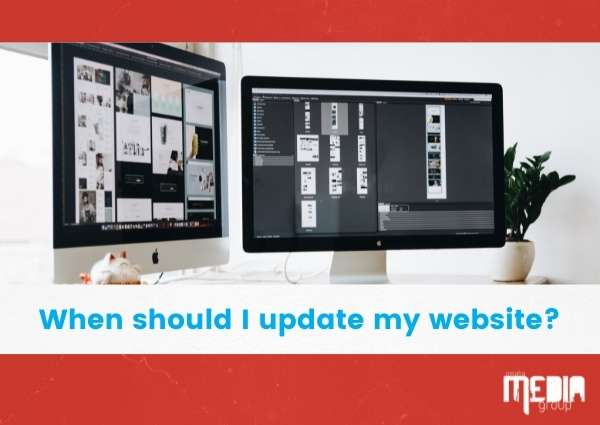 Any website on the Internet has a shelf life of just three years.
Any website after the three-year mark has obsolete elements, code, loading speeds, or anything else that new, modern websites are implementing. The trends and technologies out there are ever-changing, and while you do not need to update every month, it is important to keep an eye out for the following elements on your website.
Our website design Omaha experts often hear, "We know our website is outdated, personally, we hate it, and we just need it fixed." If you find yourself saying this or something along the lines, it is time.
These are three signs that your website needs to be updated!
A shift in consumers
Research shows that Millennials are not the same consumers as their Gen-X or Baby Boomer counterparts. In McKinsey & Company's study called "Cracking the code on Millennial consumers," Millennials are loyal to brands and maintain those brand loyalties until they find another brand/ company that meets their needs.
This generation takes their time when it comes to purchasing options. Millennials are the researchers who are going to your website to learn more about your services or products along with who your company is and what you stand for.
Old, outdated websites will not fly with consumers, but with this educated tech-savvy generation, it will for sure not fly. This is because Millennials are an image-based generation who prefers great design on websites and marketing elements.
Overall, when it comes to marketing to new managers, advisors, leaders, and supervisors who are consumers in their personal lives, an updated website is critical.
When competition sneaks in
The thing with search engines and websites is that there is always local competition in the area, but a number of times, clients do not realize that the SERP competition is on a larger, more drastic scale. With the amount of competition on the Internet, it is important to always be one step ahead of the game.
If you were a reigning champion for years, and all of a sudden, newer, more competitive companies are closing in on you, then you might already be behind. A redesigned website can be a great way to stay competitive with your new competitors.
When traffic is lowering
There is a multitude of reasons why website traffic can be slowing down, but one of these reasons is an old, outdated website. Our website design Omaha experts understand the trends within Google, and one of the latest updates within the search engine will affect old websites drastically.
It is called the Google Core Web Vitals and Page Experience Update. The search engine continues to rank websites based on a number of factors, but one of the biggest ones is user experience.
This can be where clients start to notice changes in their lead generation or even the Google Analytics on their website. There is less traffic, and if there is more, it seems to be less qualified. At the same time, less traffic could be due to a decrease or loss in ranking! While trying to figure out a decrease in traffic can be difficult, a lack of modern and seamless user experience on sites could be a main contributing factor.
Call us!
The process of updating your website with our website design Omaha experts doesn't have to be daunting. Omaha Media Group has been in business in the website design and development industry for more than 10 years.
Trust us when we say that we have worked on thousands of brand new or redesigned websites, and we can provide the best coding and customization out there.
Contact us to see what we are all about!
Share this post
Comments