Who's Who at Omaha Media Group: McKenzie
Who's Who at Omaha Media Group: McKenzie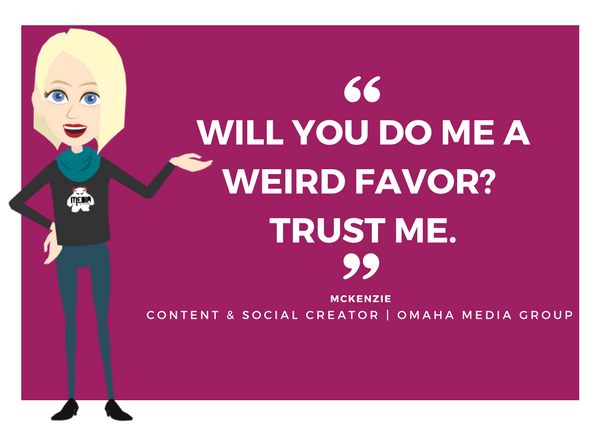 First Name:
McKenzie
Office Nickname:
Mac #1
What the heck do you do here?
I am a content creator and social media marketer for Omaha Media Group! But if you've got the hat, I'll wear it.
How do you take your coffee?
I take my coffee with cream, one sugar, and the warmest "hello" from the sweet, sweet man at the Scooters on 180th & Q. I literally go there just because the man is so nice.
Describe your daily at Omaha Media Group:
First things first…when I get into the office I get coffee and then I find whoever will listen to me talk about murder podcasts. Generally, Steph and I hash out our recent theories on "who done it". Once we've got the true crime wrapped up, I fill up on more coffee. I spend my days at Omaha Media Group creating blog content and social media content for our own brand! Often times the crew can find me Slacking them about weird ideas I have; asking questions like "So…what do you think about…" or "Will you do me a weird favor…" and saying, "Don't ask…". You can also find me doing custom photography for our own projects in addition to our clients; blogging for social clients; sitting in the massage chair, and drinking a concerning amount of coffee.
What's your favorite tool to use?
I used to be a Photoshop junkie for social media images…but honestly, Canva has taken over. I laugh at how simple it is and how less complicated it makes my work life. Lazy? Maybe. Efficient, sure.
Do you have a desk/office essential?
Desk essentials include coffee, this fresh smelling wax-melter I've got, and noise-canceling headphones. Not because I don't want to hear anyone (wink), but because the Run the Jewels 3 album is just too good. I also tend to hold onto a bag of cookies when I have a lot of projects on my plate. They're my Coping Cookies. And my Fuji XT-10.
If you could offer up one piece of industry advice, what would it be?
Don't create a THING in Microsoft Word. Ever!
What's your social platform of choice?
Instagram. I don't have time for yo' political rants and FB "Challenge" posts.
What are you listening to?
I'm obsessed with podcasts! Favorites include My Favorite Murder (any fellow Murderinos out there?), Missing Richard Simmons, The Daily, The Art of Charm, This American Life, Criminal, Up and Vanished, Here's The Thing with Alec Baldwin, True Crime Garage, The Moth…I mean…just so many good ones. When I'm not podcasting, I'm listening to the new Sleigh Bells Jessica Rabbit album, pop ska punk (with zero shame), Purity Ring, Shovels and Rope, Shakey Graves, and Hall and Oates.
Favorite industry-knowledge-gaining resource:
I love a little YouMoz Blog.
Happy hour drink:
Sazerac Rye
Fun fact about yourself:
I'm excellent at winning random contests. I've won an Air Guitar contest…a Best Dressed contest at a taping of America's Funniest Videos…and I won a VW Bug from a grocery store contest in Maine.
Contact Us
We want to hear from you, so what are you waiting for? Contact us today.
Get In Touch
Share this post
Comments