Why Should You Focus More On Creation Of Adaptive Content?
Why Should You Focus More On Creation Of Adaptive Content?
/images/uploads/blog/CREATING.jpg
Omaha Media Group
https://www.omahamediagroup.com/images/uploads/monster_gallery/Omaha-Media-Group-Black.jpg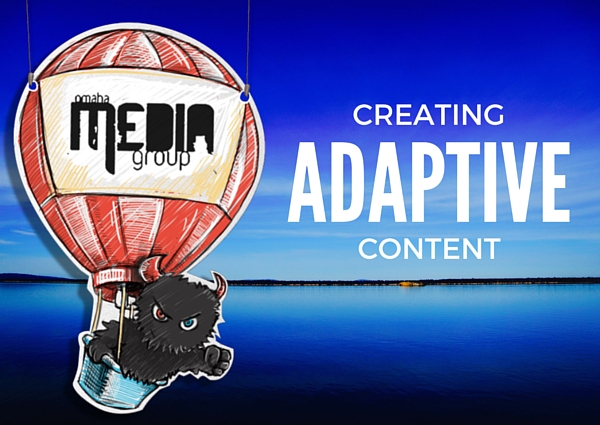 The one-size- fits-all has been invalidated by content marketers. The last decade was all about creation of content-just content. You didn't need knowledge about SEO or writing long, information-rich content. The search engines also didn't have a proper framework to decide the ranking system. But, now people are no longer happy with generic content. They want personalized content which solves their problems.
These content are created with certain people and problems in mind and they go all out to woo this target group. It requires use of the knowledge of data mining but the end result is far more rewarding in terms of building a long lasting relationship with your readers as well as driving more conversions at a faster rate. This type of content which connects customers to a brand on a more psychic and emotional level is called adaptive content.
Data can give you a level of astuteness which tells you accurately every time the content strategy which you should adopt and the content which would work for your target group. You can personalize content only if you get a deep insight into the mind of your customers. You will have to find out about their habits and preferences and also their dislikes. Find out about their problems and see if the solution provided by you is finding traction with them.
There are four key characteristics that are exhibited by adaptive content. They are as follows:
1. Reusable nature
The same content can be repurposed multiple times across different formats and also adaptable to different devices. The core essence remains the same. This means a single content idea gives birth to multiple articles which can be used to target a wider section of the audience.
2. Easy to use CMS
Adaptive content is created and maintained using highly utilitarian and functioning CMS system for creation and dissemination of the content.
3. Structured
Adaptive content is highly structured. As a result, the essence can be easily adapted and reused on a different medium. It saves time and effort that would have been required to create content from scratch.
4. Systematic
The processes and work flow used in creation and delivery of adaptive content is highly systematic as a result of which, the efficiency level is far higher.
Adaptive content is similar to responsive content or design insofar as they are both adaptive. But adaptive content goes beyond the cosmetic design adaptations. They can be adjusted based on the context of application, the person consuming it or the medium being used. Adaptive content adjusts as per the screen size of a device but it goes way beyond. It can also modify itself as per the capability of the device and the person using it. Adaptive content is created by keeping the consumers in the forefront. Their needs and goals are given the most importance. It automatically leads to brand loyalty and profit.
Adaptive content should know when it has to change and under what conditions. The creator can specify indicators which help the content to adapt to the changing environment. Adaptive content is the most talked about topic in the field of content marketing and if you have still not implemented it, you may have already conceded ground to your competitors. But as it is said that it is never too late to change!
Can we help you with a content marketing plan? Contact us today to come up with a strategy that is built for you!
Contact Us
We want to hear from you, so what are you waiting for? Contact us today.
Get In Touch
Share this post
Comments