5 Common Mistakes You Should Avoid Doing in Online Marketing
5 Common Mistakes You Should Avoid Doing in Online Marketing
/images/uploads/blog/5_COMMON_MISTAKES_IN_ONLINE_MARKETING_OMG.png
Omaha Media Group
https://www.omahamediagroup.com/images/uploads/monster_gallery/Omaha-Media-Group-Black.jpg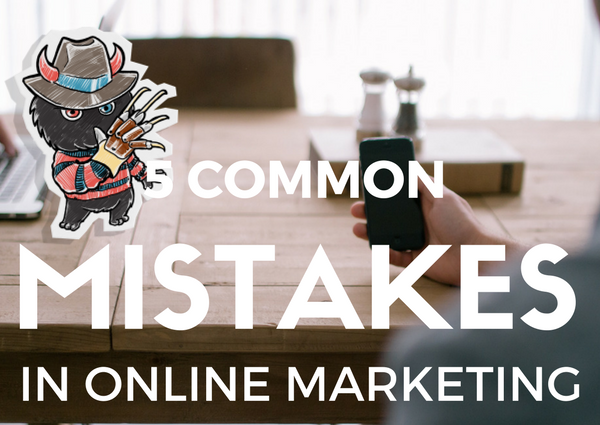 Although Online Marketing is one of the best ways today to connect with your prospective clients, its power and influence also makes it one of the most difficult marketing methods to use. Your Online Marketing strategies can either make you a huge success, or can make you look like a complete disaster. The key is to know how exactly to use Online Marketing and to avoid things that will only ruin your prospects. Here are some common mistakes that businesses do when they use Online Marketing:
Posting too many ads
Your aim should be to make your presence felt, not bullied on your viewers. Online marketing has to be handled very gently. However, over-enthusiastic businesses make the mistake of posting far too many ads over the web, which actually annoys the user.
Keeping the content dry
Your ads should be interesting enough to attract viewers to check them out. Internet users go online for their personal work, and viewing ads is definitely what they want to do. A quirky, creative ad that instills curiosity in the viewer will go a long way in getting your content more traffic. Rather than blocking your advertisements, the viewer will actually be egged on to check out your products and services.
Choosing the wrong stream
Your online advertisements should be going up on websites where you now they'll have maximum exposure to your target market. A lot of businesses simply launch their online marketing strategies on the wrong platforms, which leads to little or no results. Besides, it's also a waste of time, energy and money. Spend a little time researching on what kind of websites your target market spends more time, and focus in launching your ad campaigns on majorly these websites.
Not keeping up with the changing trends
Internet usage is very dynamic. This makes online marketing strategies very complicated because consumer needs and behavior too are very complex and dynamic. The internet keeps changing its nature and new trends keep emerging while existing trends become obsolete within no time. Today we are in the era of smartphones, video content and voice search. Search engine algorithms constantly upgrade to accommodate these changing trends. Needless to say, a business that does not update it online marketing campaigns to suit these changing needs is sure to be left behind in this highly competitive world.
Not evaluating results
Unless you know how your campaigns are affecting the market, there's no way for you to know if you're going the right way or not. One of the biggest mistakes that businesses make is to ignore the need for tracking and measuring the response rate of the market to online campaigns.
While online marketing is highly effective, it cannot perform magic if it isn't tracked carefully. As a business it's very important that you analyze response patterns to your online marketing campaigns so that you'll know better where you have to make necessary changes to make your campaign more effective.
Let us help you avoid online marketing mistakes!
Contact Us
We want to hear from you, so what are you waiting for? Contact us today.
Get In Touch
Share this post
Comments