5 Social Media Marketing Myths Debunked
5 Social Media Marketing Myths Debunked
/images/uploads/blog/5_social_media_myths.jpg
Omaha Media Group
https://www.omahamediagroup.com/images/uploads/monster_gallery/Omaha-Media-Group-Black.jpg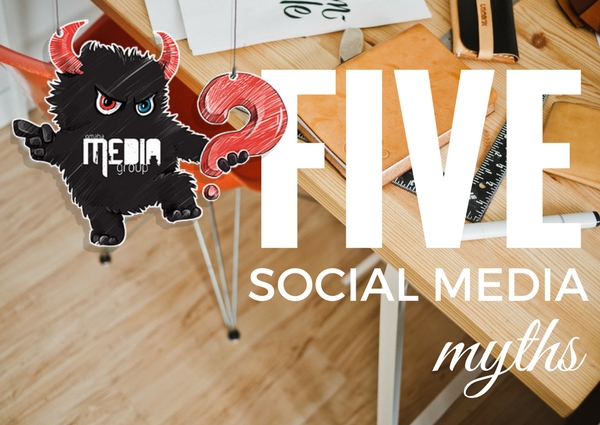 Social media marketing should, no doubt, be an extreme part of your marketing mix. However, with its apparent success, it has become a talking point which has created both supporters and detractors. When something becomes popular, invariably a few myths get created and propagated. In most cases, the myths may be laughable or preposterous and they are as such quite benign. However, if a business falls into the trap of believing all the social media myths out there, it could hurt them real bad.
This article is aimed at debunking some of those very common social media marketing myths.
Why do social media marketing myths hurt?
A myth related to social media can affect your business because you may start to over or under leverage it. As a marketer, if you don't use data to decide and justify what proportion of your marketing budget you should allocate to social media marketing, you could either spend too much or too little. That would mean you won't be able to use it effectively to generate and convert your lead.
It is very important to conduct proper market research and identify your core customers before launching a campaign. Myths can blur the logic and analytical abilities of social media managers and perceptions often take precedence over hard facts. That could be disastrous for your overall marketing campaign.
Social media marketing myths
1. Social media return is immeasurable
Even as more and more businesses increase their social media presence and ramp up their marketing efforts on social media, the myth regarding return on investment remains. The myth says that social media marketing efforts can't be measured. A lot of businesses still believe that social media presence can give you more visibility but doesn't have any direct impact on the bottom line. This perception is absolutely wrong. Proper social media engagement and marketing can generate interest, create leads, make them take desirable actions and create a lifelong relationship which would bring in more business per customer. There are a number of software that allow you to measure traffic and customer conversion.
2. More followers and likes means success
Although having a large follower base is always encouraging and helps give your brand visibility, it doesn't necessarily guarantee an increase in business. Even though growth is an important social media KPI, or key performance indicator, a lot of followers who may react to your content may not have a positive view of your brand or don't identify with your brand and as a result, these followers can't be seen as a measure of marketing success. You should, however, always take immediate action to respond to negative comments.
Rather, your website click through rate and visitor behavior on your website would give you a more honest view of your success on social media and conversions from such. That is why it is important to include CTAs in your social media engagements as much as possible.
3. Social media promotion is free
This is one of the biggest myths. Even though your social media marketing success depends on proper planning and strategy, it is advisable to still use paid social media campaigning to target your prospective customers which go beyond your immediate followers or organic social media searches.
4. A marketer needs to leverage every social media platform
Having a prominent social media presence is certainly helpful, but before you take the plunge into every platform possible, you need to identify your target audience. You will have to use different metrics and parameters to find out where your target audience hangs out. Having more social media profiles won't guarantee more conversion or more scalability.
5. Use as many hashtags per post to increase chances of engagement
Things don't work that way. Using too many or random hashtags just to attract attention could be counterproductive. It may get more attention but if the hashtag is irrelevant to the viewer or the post, it won't elicit the desired response or engagement.
Don't make the mistake of falling into the myth trap. Social media can indeed help your business positively if used strategically and will give returns if your efforts are peppered with logic. And also don't over rely on social media. Use it as a part of your overall marketing mix and not the only marketing tool.
Let our Social Media Specialist help you with your social marketing strategy!
Contact Us
We want to hear from you, so what are you waiting for? Contact us today.
Get In Touch
Share this post
Comments