Six ways in which AI will affect UI design
Six ways in which AI will affect UI design
/images/uploads/blog/Omaha-Media-Group-08.22-Blog_.jpg
Omaha Media Group
https://www.omahamediagroup.com/images/uploads/monster_gallery/Omaha-Media-Group-Black.jpg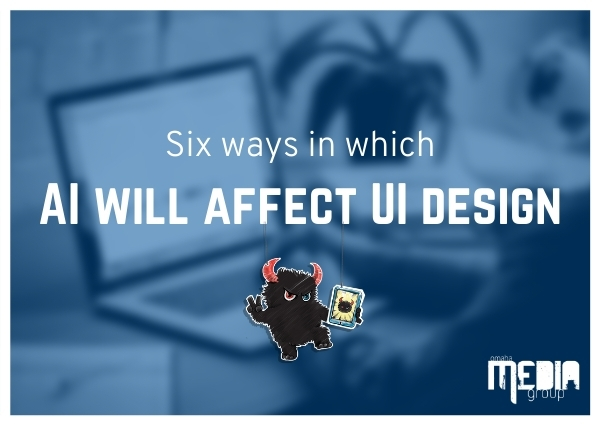 Who remembers the very beginning of the Internet and its website? Our Omaha website designers wish we could dig up some of our very first websites and their designs because design sure has changed!
As design continues to evolve with technology that is in place, one notion that continues to rise in popularity is Artificial Intelligence (AI). The adoption of AI within each facet of our lives is something that we do not think about often, but the reality is, AI is slowly taking over even the most simple of tasks in healthcare to driving!
AI has greatly improved the concept of user experience within design and development and even marketing strategy. Also, it is further moving to change the world of user interface design as we know it.
AI has had a profound impact on a number of industries. How is it going to affect the concept of UI design?
Increase in productivity
Let's start with the obvious here- this is not like the Terminator. Robots are not taking over designer's jobs, even with companies like Wix who make a website for a company.
A company needs Omaha website designers at their disposal because a DIY website design and development project with AI is not the most productive out there!
The use of AI in UI design will increase the productivity of designers. Simply by training robots to handle the elements of design such as resizing, adjusting color schemes and so on. This allows designers to work on the more complex and strategic elements of UI design.
Better design systems
One of the most important aspects of UI design is ensuring consistency in order to enhance the user experience. AI systems can be combined with UI design to analyze how a user perceives and responds to the elements of design and this in turn helps to determine the functional aspects of a website.
The information collected with the help of AI systems will help to create a more personalized experience for the user. This in turn increases the traffic to a website and is also likely to result in profitable conversions.
Better tools
When UI tools are coupled with AI systems, a much clearer idea of layouts and conceptual design is obtained. It also facilitates communication among the different members of a design team to proceed quickly and with much more efficiency.
AI can help you reduce the time spent on searching for design resources because of the large number of templates, layouts and design concepts already stored in memory.
Improves troubleshooting
AI has given birth to the concept of chatbots. A chatbot can help a user to troubleshoot problems in seconds. In addition, quick response and effective solutions can increase sales and drive traffic to a website. After all, everyone is on the lookout for fast and efficient customer service.
The ability to handle data
Data and number crunching are not always pretty, but with the adaptation of AI into website design, this makes it all a bit easier to understand. This allows for all of a company's numbers to be in one single place and easily tracked without worrying about it throughout the month.
A UI system that is coupled with AI has an immense capacity to analyze, process and make efficient use of this data. These systems are able to understand behavioral and psychological commands and act accordingly to produce a result.
This is how our Omaha website designers see the implementation of AI into UI Design methodology that can help automate, control and create efficient systems in place! For help with design and development projects, contact us today!
Contact Us
We want to hear from you, so what are you waiting for? Contact us today.
Get In Touch
Share this post
Comments