UPDATED: 9 essential must-haves for your website
UPDATED: 9 essential must-haves for your website
/images/uploads/blog/Omaha-Media-Group-01.30-Blog_.jpg
Omaha Media Group
https://www.omahamediagroup.com/images/uploads/monster_gallery/Omaha-Media-Group-Black.jpg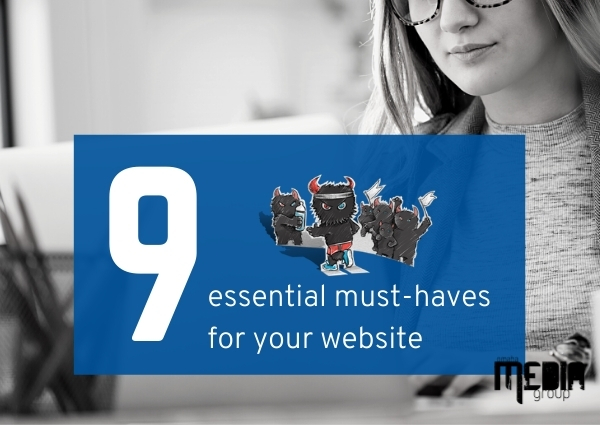 A successful website will get people to the website, keep their attention and convert them into customers or perform the necessary actions to meet marketing and company goals set in place.
A website design and development project is no smaller undertaking, and as a one of the leading Omaha web design companies in the city, we understand that all features and functionality are critical in the process. As trends come and go, and technology changes, there are basics that never really change, just get enhanced as time goes on.
These are the nine must-haves for your website moving forward.
If none of these other must-haves for your website get implemented this year, this is the one that should be updated first and foremost. This is because one of the largest updates that is scheduled to happen this year is requiring this on all sites.
As smartphones have continued to rise in popularity throughout the years, Google has been slowly implementing mobile-friendly design requirements since 2016. A mobile-friendly website automatically sizes itself on any screen from desktop to smartphones and even tablets.
If you recently went through any of the Omaha web design companies for a website redesign and development project, check with them first to ensure that the website is mobile-friendly. If not, you can go here.
Testimonials are imperative for a company in the digital age. This is because consumers trust one another more than companies. Think about it, how many companies did you visit or purchase their products because of a friend or family member referral?
The same goes for online. A testimonial establishes credibility to potential customers that your company provides the best services that you speak about in marketing messages.
While they are great, you also want high-value testimonials and reply to all of these as much as possible. A great place to start asking for testimonials is Google.
A company simply needs to create a Google My Business account, and from there, you can ask customers to write reviews which also help local search rankings.
In the same sense, case studies can fall under the category of testimonials because the content is all about overcoming obstacles with a client and how your company was able to help that client through it all.
A successful case study provides how the problems were solved, provides the honest, social proof that customers are searching for and tells the story of your company's values and work ethics.
It can be argued that the core services of your company are critical because those are the products and services that your company is selling to make those big bucks. The core services are pretty self explanatory; that each general category or listing of the services and products offered will be in their own groups, categories or landing pages, and an explanation of each following.
Who is your company? What are your values and what do you stand for? The difference between a mission statement and an about us is that a mission statement identifies the company's purpose.
It provides a short insight into who your company is and the values and philosophies that your company prides itself on, and with consumers, this is a moment that they could connect with your company or look elsewhere.
Just another moment that can help spark customer loyalty.
5. About us
While the mission statement is the philosophy behind your company, the about us is the "who, what, where, when, why and how" behind everything that your company does on a daily basis. This answers the questions and provides visitors with the focus of the company, its products and services, along with anything else needed.
This helps to tell a story or provide more context to searchers- when a company forgoes their about us page they are forgetting one thing- consumers want that and learn more about your company.
SEO is for consumers and search engines alike, but there are plenty of moments where writing for searchers is the best thing to do.
6. Chatbots and live support
In recent years, chatbots and live support have grown in popularity, and with COVID-19, consumers and companies alike have been implementing and using these services more and more. It is estimated that 62 percent of consumers prefer to use chatbots.
A chatbot can be simply placed on the website as a small, but noticeable feature, and at the same time, can help direct familiar or common questions to the correct parts of the website. This AI continues to allow for 24/7 support while companies clock out at 5 p.m..
7. Blog
Blogging content is imperative to the overall success of the digital presence of a company. This is because blogs bring in qualified website traffic with optimized content and an entire SEO strategy behind it.
Websites that have a blog have a 434 percent advantage over their competitors because their site is more likely to get indexed over others. This is due to the fact that the content is new, optimized and quality or even unique!
Our experts always suggest that companies who do not want to write weekly blogs focus on PRs, industry forecasting, industry trends and other types of content that Google also loves at the same time.
8. Geographical information
Any Omaha web design companies will always recommend to have any geographical information listed because that is how local and even national companies can find you.
Local companies mean local foot traffic and customers are everything, so make sure they are easily able to find your store-front, social media accounts or even a phone number.
A strong and powerful call to action (CTA) will move consumers through their customer journey funnel. Whether that be continuing their research or making the final decision on purchasing a product or service, the CTA can be what deters them or brings them in.
While consumers are intelligent and technologically savvy, they still need to be told what to do and how to do it! Guide them, but make sure to not overpower or overwhelm them into the purchase.
These are the top nine must haves for your website and any Omaha web design companies should be able to easily implement these for you!
Need a Website?
When you're ready to build your new website, get in touch with us!
Get in Touch!
Share this post
Comments