Expected 2022 trends in the industry
Expected 2022 trends in the industry
/images/uploads/blog/Omaha-Media-Group-01.01-Blog_.jpg
Omaha Media Group
https://www.omahamediagroup.com/images/uploads/monster_gallery/Omaha-Media-Group-Black.jpg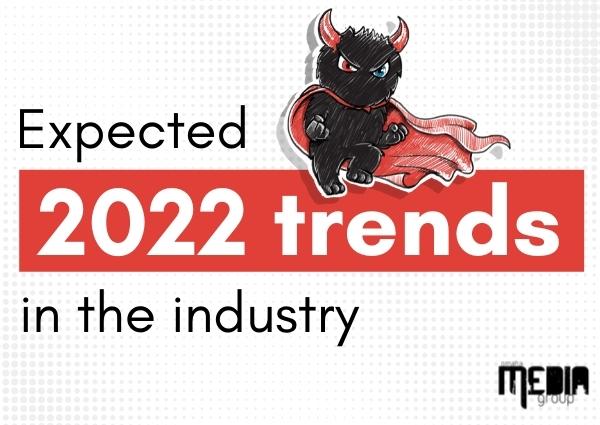 The digital landscape of 2021 has paved the way for a number of new trends.
In 2021, Dogecoin and bitcoins grew in popularity, GameStop made some people hundreds to thousands of dollars, Facebook is now known as Meta, aka Metaverse, a global pandemic, the surge in ecommerce and so many other trends and big changes worth mentioning.
However, there isn't enough time in one blog to mention all of the biggest trends for the new year. These are the trends that our experts believe will continue to surge in 2022 and beyond.
2022 digital marketing trends
Social commerce
What is Social Commerce? Social commerce is exactly what it sounds like. It provides companies and creators the ability to sell their products through Facebook's various commerce options.
At the beginning of this pandemic, it seemed that it would only last a few weeks, but as cities and businesses shut down and companies went virtual, businesses had to adapt their current methodologies to stay afloat.
With 56.1 million shoppers on its app, Facebook continues to reign as the top social commerce platform due to its several different options to sell on Facebook and Instagram.
This includes Facebook page shopping, Instagram shopping, Facebook Marketplace, and the latest Facebook Groups. A large majority of online shoppers are using social media to discover new products and brands while searching to immediately purchase products.
The research continues to show that video games, toys and hobbies, apparel and accessories, jewelry and watches, ebooks, and others are some of the top categories and items selling on social media platforms.
In 2020, Thrift World came to our team to go digital along with their stores. In the last two years, Thrift World has sold to the following states and more!
AR

AZ

CA

CO

FL

GA

IA

IN

KS

MA

MI

MN

MO

MS

NC

NE

NJ

NM

NY

OR

PA

TN

TX
With the implementation of an Instagram Shop, Facebook Commerce Manager, eBay integrations, Shopify integrations, and even more on the way, this shows that social commerce can continue to drive sales, even two years later.
Meta commerce
In 2021, Facebook rebranded to "Meta" or "Metaverse." In an effort to provide an immersive social media experience, Meta is bringing Virtual Reality (VR) and Artificial Intelligence (AI) together in an effort to continue to grow.
This means the implementation of new technologies within the metaverse to provide an immersive experience. As of now, the latest changes will involve WhatsApp within the company's biggest changes for social commerce.
What are the biggest changes for SEO?
Search Engine Optimization
Core Web Vitals
Google's entire methodology behind its search engine is to provide the best user experience possible. Throughout the years, Google continues to release large Core Updates or Core Algorithm updates which changes the SERP itself.
One of the largest updates is known as the Core Web Vitals update. This update is a subsegment to a larger one known as the Google Page Experience update. The Core Web Vitals update focuses on Largest Contentful Paint (LCP), First Input Delay (FID), Cumulative Layout Shift (CLS).
These focuses each break down into smaller segments; however, the main strategy behind these updates is to provide a better user experience.
User experience (UX) is part of the website design process but doesn't stop there. UX is in regards to content on websites, its accuracy, along with its experience.
Another change that is working off of a 2019 Google Core Algorithm update? It's called MUM.
MUM
"It not only understands language but also generates it." Google- The Keyword.
The MUM Google Update has built off of the BERT update in 2019. This helps the search experience by minimizing the number of search queries needed for related searches.
What does this mean? This means if you are an avid hiker, and continue to go through famous hiking trails, it will bring up related searches that are typically searched with those queries.
Instead of searching for "hiking equipment for X trail" or "the next best hiking trails." It will populate results as if you were searching for both of these at once.
2022 website design and development trends
Log4J & CVE-2021-44228 security
As consumers put their privacy and security at the top of their searches, companies alike need to ensure that they are updating and protecting their consumers. The Log4J & CVE-2021-44228 Security Exploit was disclosed on December 9, 2021, and reported that enterprises could be at risk and their website could be compromised.
There is a conversation regarding the highest traffic websites being targeted. Learn what our experts have to say.
Y2K design
The Y2K fashion era is back, and while Gen Z doesn't understand the struggle of wet bell-bottom pants yet, part of this trend is making its way in the design world as well. As much as we might not want to see this, it gives us Britney Spears with Paris Hilton and Lindsey Lohan vibes, in a good way.
The Y2K trend is all about mixing and matching, bright and bold colors, more unique design elements, and maybe even bubble letters again.
The 2000s were part of a large movement in the website design and graphic industry's change from earlier years that led to the modern, simplistic design that is known today.
The nostalgic part of the Y2K design trend can be what is selling it on sites and social media. It is all about bringing back those memories. And these are some elements that should be added:
Large, bold bubble fonts

Memphis design patterns

Retro gradient

Bolder, brighter, bigger, the better
While bubblegum pink might not be part of the branding, are there other ways that the Y2K style and feel could be implemented here and there?
Hopefully, Gen Z understands the bell-bottom pain soon and we can get the Y2K fashion over with.
JavaScript Frameworks
In the development world, there are different coding languages used to code any website on the internet. One of the top programming languages out there is JavaScript. What are the frameworks that will be top-of-mind in 2022?
ReactJS

AngularJS

VueJS

BackBoneJS

EmberJS

Meteor.JS
2022 app development trends
Single-page app
A single-page application is a website application that only opens a singular web document. A great example of this is Facebook, Pinterest, Twitter, Netflix, and other common apps. A single-page application provides a desktop experience that mirrors the native app itself.
This approach leads to no page reloads and rewriting the page itself. This helps to remove the need to navigate from one page to another to get the necessary information. It provides the ability to click on the necessary information right there.
Without needing to reload the page itself, it provides client-rich functionality, and in return, can provide a better overall user experience for those utilizing the web app itself.
There are moments when a single-page web app isn't better than a multi-page web app, but it depends on the needs.
Ah, the drama when flipping your phone shut during or ending an argument with someone. Don't we all miss it? Trends come and go, and as consumers enter the new year, the flip phone is back with some high-tech additions.
A smartphone that compresses or expands the screen size will change the look and usability of apps on these phones. When building or updating an app, it is important to consider the possibility of these phones rising in popularity.
These are the predictions our experts have made for the new year! Are there any others that we missed?
Contact Us
We want to hear from you, so what are you waiting for? Contact us today.
Get In Touch
Share this post
Comments