UPDATED: How to promote small businesses through podcasts
UPDATED: How to promote small businesses through podcasts
/images/uploads/blog/Omaha-Media-Group-04.21-Blog_.jpg
Omaha Media Group
https://www.omahamediagroup.com/images/uploads/monster_gallery/Omaha-Media-Group-Black.jpg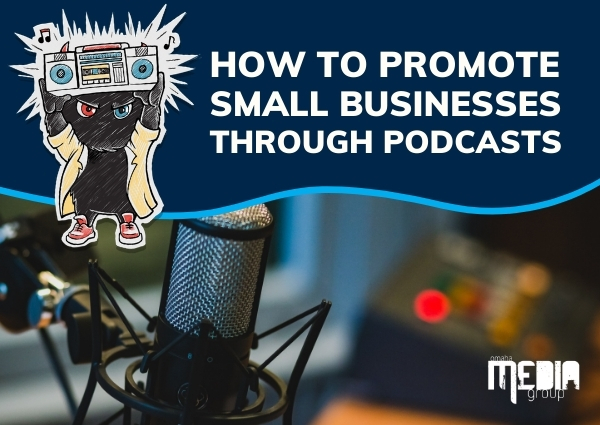 Have you practiced your radio voice yet? If not, it might be time if you are considering launching a podcast. The podcasting industry is on the up and up, and has no shortage of new episodes and new releases. As the industry grows, it is expected that it will grow 20 percent more by 2023.
Podcasts get to reach their audience on another digital platform. Podcasts are easy to consume and have the ability to be "on the go" with their audience.
Not only are podcasts growing because consumers love them, but also because advertisers love them as well. There are 525,000 active podcasts on Apple's app. As traditional advertising mediums have changed to streaming services and other digital platforms, the same can be said for podcast advertising.
The average click-through rate is 0.06 percent! (This is mind-blowing). This can be due to the fact that this medium is engaging and trusting in its hosts! It is similar to consumers purchasing products due to influencer marketing.
Podcasting influencer marketing? Is that a thing? If not, we just coined the term.
Get a head-start to your marketing campaign by podcasts because there is more than one way in which podcasts can work wonders for a number of companies in hundreds of industries.
Video vs audio podcast
As StoryXpress explains, "a video podcast is a series of visual and audio content that follows a theme." A regular podcast does not include a video. It is essentially an episodic series of digital audio files which can be shared, transferred and downloaded by users, often after they subscribe to it.
The videos which are sent on the lines of a podcast model are video podcasts or vodcasts. As podcasts turn to more video-based, it is important to understand to not throw away the traditional audio content.
Because podcasts are consumed while their audience members are commuting, working from home, relaxing, cooking, cleaning or other household and work-related tasks, it can be beneficial to have video and audio-based podcasts.
How to promote a podcast
Similar to many digital marketing strategies, an integral part of the overall strategy is search engine optimization (SEO). While ASO is different from traditional SEO strategies, it still has its own imperative similarities that all podcasters need to keep in mind.
With over 500,000 active podcasts on the Apple app alone, this is serious competition, and proper ASO strategies could help your podcast get better engagement and a spot in the app.
This is the perfect way to bring in other macro and micro podcasters that can help to leverage your podcast and bring in new and qualified audience members! The biggest notion to keep in mind with guest audience members is to keep in mind that quality over quantity.
Make sure that their message, brand and audience would mesh well with your brand, audience and message. If not, this could turn off your current audience and leave a bad impression for the future.
Use social media
Social media is one of the most common digital marketing strategies! One of the up and coming social media platforms is ClubHouse! The benefit of having a podcast and using ClubHouse is that it is an audio-based social media platform. This means all of your podcasts can be edited, cut and used on this platform.
At the same time, the same can be said for other social media platforms such as Instagram! With Instagram Stories, Reels and IGTV, there are plenty of mediums on how to promote a podcast!
While YouTube is not necessarily a social media platform, a number of podcasters will use YouTube because of its search engine-like capabilities and it helps for your YouTube videos to show in search results.
Let your brand tell another story this year by adding a podcast into your marketing mix. There is space for every topic of conversation when it comes to a podcast. The next time you are wondering about where to meet new audience members, get the marketing plan in place for how to promote a podcast!
Contact Us
We want to hear from you, so what are you waiting for? Contact us today.
Get In Touch
Share this post
Comments