November SEO Notes: The latest in the industry
November SEO Notes: The latest in the industry
/images/uploads/blog/Omaha-Media-Group-11.25-Blog_%283%29_.jpg
Omaha Media Group
https://www.omahamediagroup.com/images/uploads/monster_gallery/Omaha-Media-Group-Black.jpg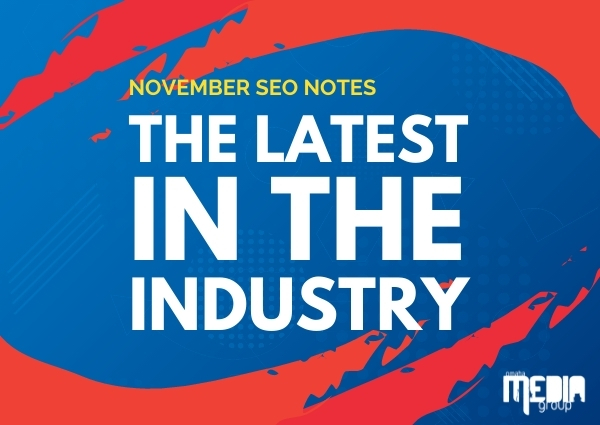 What are the biggest updates in the SEO industry? Learn more about these changes below.
November 2021 Spam Update
Is this the third and final?
This worldwide update recently finished in the middle of November, and while the details have not been released, this is the third spam update of the year. Last year it was estimated that over 25 billion website pages were blocked due to penalizing Google's Developer Guidelines.
While this isn't the final spam update, and many more have happened that have not been released, this could possibly be the last larger November 2021 Spam Update of the year.
With this in mind, what makes a website spammy? There are several reasons a site can be classified as spam from backlinking strategies to hidden keywords or thin content.
Our SEO experts suggest that all companies review their websites and current providers to ensure that their efforts are providing growth and not harm.
November 2021 Core Update
On Nov. 16, Google's Search Liaison and Barry Schwartz predicted that another Google Core Update was not in the books for November, but this quickly changed on Nov. 17 when the latest November 2021 Core Update started.

The bright side of this update is that it is a broad core update which means that not one specific industry is affected over another. While some industries could see a major increase or decrease in their ranking, overall, it should be fine. So, have a happy holiday break SEO experts.
Google Search Central explains that there might not be something necessarily wrong with one specific page or blog that decreases in ranking.
A great way to think about this type of update is to consider the following scenario.
You have a blog ranking from 2015, and while the content is okay, it isn't as relevant anymore in 2021, probably not at all. And if this content isn't updated, you will find somewhere between core updates that this blog will drop or maybe completely lose ranking.
However, if you refresh this blog, it could continue to rank based on new ideas and resources.
If you are ever curious about the past, present, and future of Google updates, Google Search Central is a great resource for learning more about updates and their impacts on your website.
Here are some items that should be on your 2022 SEO checklist that could help with these trends and changes.
When it comes to helping with your organic and paid search strategies, contact one of our SEO experts today for a consultation.
Let's start growing together to help your business grow for the future.
Contact us!
Let's start growing together to help your business grow for the future.
Get In Touch
Share this post
Comments