UPDATED: Omaha Web Design: The tea behind design and SEO
UPDATED: Omaha Web Design: The tea behind design and SEO
/images/uploads/blog/Omaha-Media-Group-09.12-Blog_.jpg
Omaha Media Group
https://www.omahamediagroup.com/images/uploads/monster_gallery/Omaha-Media-Group-Black.jpg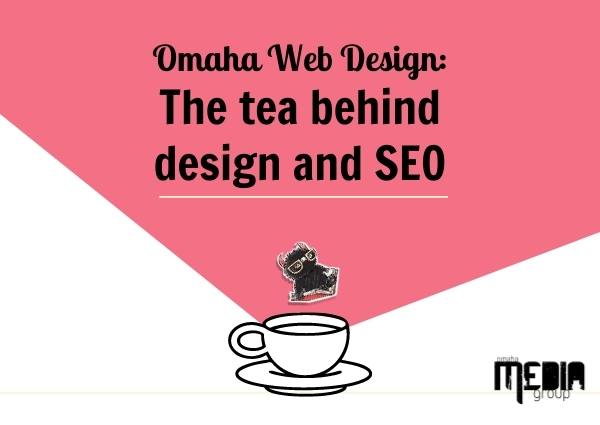 Our Omaha web design experts are here to tell you a website's design and development should be updated every two years at a minimum! Gone are the days of letting your website remain untouched for years. If you have not updated your site in a while, it is time to get to it. Not only for the modern, sleek aspect, but for the sake of your search engine ranking!
Now, we are not telling you that you need to have a wildly elaborate, custom website built. However, our Omaha web design and Omaha SEO experts are telling you that a website that is optimized on the front and back end of the site, with clean code, a solid CMS, a user-friendly design that is mobile friendly does matter.
Almost all companies and clients who come to Omaha Media Group understand that their website's design and its SEO strategy is imperative, but many do not understand that the SEO should be implemented into the design portion of the website!
Hear us out! This is because most companies never think of SEO until after the fact of their website. While the brand new website is awesome, modern, responsive and hits every point your consumer's want and need, if there is no SEO, you will continue to hangout in the darks of the Google search engine.
When a website launches, it should launch with on-page and off-page SEO strategies with the latest design methodologies set in place. Everything from the Title tags, H1 to H3, the content and so many other aspects of the SEO process should have its place on the design process side as well. This is because not only does the content matter, the H1 and everything else, but how it looks matters as well!
If you hate how that H1 appears on the page, we can fix it in a jiffy, but it is easier to set that in place ahead of time so the site launches with nothing to fix!
Search Engine Optimization (SEO)
SEO is the organic ranking of your website in search engines like Google. This helps to increase the qualified website traffic and leads that come to your company's website. SEO is one of the most important aspects of marketing in the digital era.
Not only when you're having a new website designed, but also for the sites you don't plan on updating yet.
SEO isn't one of those things that you should put off until later or just never come around to finding the marketing dollars for it. You need to work on it now, because, for every day you don't, another business does.
Do you want to know another reason why you should find an Omaha SEO expert to work on it now? This is because organic SEO is the tortoise in the famous children's book. The tortoise ends up beating the hare in the books and the same analogy can be used for SEO!
Organic SEO takes about six months to a year for any significant results to show in search engines even with on-page and off-page optimization, it takes time. The other notion to remember, each industry is so different. While one website in one industry only takes six months to show results, another website in a completely different industry can take one year.
There is no single way to implement SEO and there is not only a single scientific formula to continuously do with SEO. One month this strategy might work, the next there is an update and that strategy has to be changed a bit.
Does your website design affect your SEO?
The correlation between your website design and SEO is a bit convoluted.
Overall, does the color of your website or the typeface of the font you use matter to your search engine results? No, it does not. So, what part of the website design affects your SEO?
What does matter is how your design affects the experience of your website visitor. Google's top priority is the user experience. If Google detects a consistent fall off of user-friendliness, your search engine rankings will start to drop.
What affects a user's experience? Well, color and font types do, but not as much as other concepts such as speed! A slow loading website is one of the most frustrating notions for a consumer, and as more consumers click out of your website, the more Google notices this time and time again. Google will keep tabs on your website and you might notice a drop in ranking for a keyword that has never been a problem before.
The other notion to keep in mind is mobile devices are what consumers are using. In a recent press release, Google announced that all websites need to be responsive to mobile device searches soon, like really soon. This will affect any current and future website's ranking in Google's search engine. While you might have spent thousands and thousands on SEO strategies, if the site is slow and not responsive, you are wasting those marketing dollars.
Is design or SEO more important?
Honestly, we're going to place them as equals. Our Omaha web design experts and Omaha SEO experts would argue that one is more important than the other, but understand that ultimately, they go hand in hand.
A good SEO strategy will bring more organic traffic to your website, and your design is going to keep them interested.
When having a new website designed or a website redesign, it is important to have a conversation about the next steps to take in order to follow Google's Development and SEO guidelines set in place!
Why is Wix bad for SEO?
Wix's design alone is not the best for SEO due to its inability to later add onto the website and export it to different types of websites. Research shows that Wix sites get little to not traffic organically and the sites are not capable of SEO optimization!
Why is SEO so important for a website?
Search Engine Optimization (SEO) is important for a website because it is what will help that website rank in search engines overtime.
Share this post
Comments