UPDATED: Signs you need a website update
UPDATED: Signs you need a website update
/images/uploads/blog/Omaha-Media-Group-08.26-Blog_.jpg
Omaha Media Group
https://www.omahamediagroup.com/images/uploads/monster_gallery/Omaha-Media-Group-Black.jpg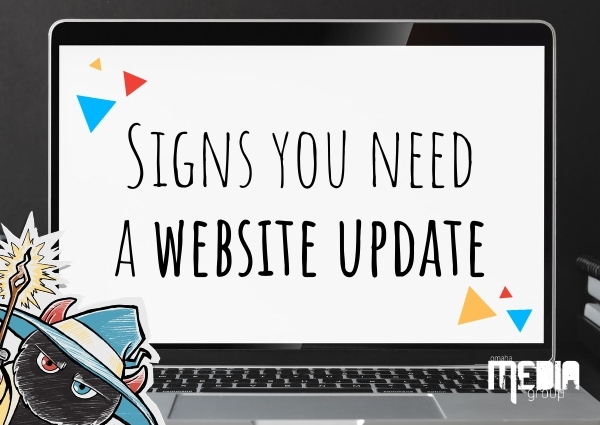 When was the last time your company reviewed the website? What about navigating through the different landing pages? How about the content? It is pretty common for a company to have a website designed and developed, let it sit for too long, then feel stuck with it.
In a digital world, speed, modern designs, search engine optimization (SEO), user-experience and ease of usage are all critical in the design of a company's website because consumers' needs are constantly changing with the ever changing technology as well.

The very first impression of a company's websites is their design! 75 percent of potential customers judge a company's credibility based on their website design. What does it say if your company is the "leading X in the industry" but your website is saying something a bit different?
To put it simply, it creates a feeling of distrust between the potential customers and your company. This is how a company can start to notice a decrease in their website traffic, qualified traffic and goals in place.
If it has been a while since you've taken an audit of your website, now is the time. As a creative management Omaha company, Omaha Media Group understands the attachment to the current website that is being utilized and how your site flows. However, stepping back and seeing it from the user's point of view can be all the difference in the business you get.
Here are some easy signs that your website needs updated.
Your website has been or keeps getting hacked
If your company has fallen victim to your website being hacked, you know the pain, suffering and money that comes with fixing it. Not only is it mentally and financially exhausting, but it can also wreak havoc on your SEO and site health.
One of the single most ways a website gets hacked is by avoiding platform updates. If you have been clicking "remind me later" for weeks on end avoiding a CRM update, this is one of the biggest signs your website needs updated.
By some miracle, if your company has gotten away without having your website hacked, it is important to find a company that invests their time in utilizing some of the most secure platforms out there.
A true professional will utilize best practices to ensure your website safety to ease the threat of being compromised.
You are not attracting the right clients
Why does a company go through the entire process of a website redesign and development project? For the most part, our creative management Omaha firm hears, "we want to bring in more sales and leads."
This is a great goal to set in place; however, it is more important that the strategies behind this are reaching the right audience. There is a misconception that quantity of leads is better than the quality of leads.
Sure, 100 leads seem better than 10, but what if the 100 leads you receive do not fall under the clientele your company is aiming to serve?
The right clients will come to your website from the right design and development and digital marketing strategies in place. While 100 leads are important, it is better to have 10 qualified leads.
The website is the catalyst for qualified website traffic that turns into leads and sales. Weeding out the inquiries that can easily be identified as not a good fit for your company is imperative to understand. Where are they coming from?
Your website is not mobile-friendly
The mobile-friendliness of your website must be a top priority for every single company out there. Mobile search is everything, and your search engine results rely on it.
If a company is unsure if their website is mobile-friendly or not, this is one important part of the signs your website needs updated. A company can run their website and its landing pages through Google's free mobile-friendly test.
How else can a company know if their website is mobile friendly? Go to your website and make the screen long and skinny. If the font, images, navigation, pages and everything else respond to this without needing to zoom in and out, the sign is mobile-friendly.
Here is our website on a desktop
Here is our website as if it was on mobile
The website seamlessly responds to this change with a simple switch in the "hamburger" navigation button on the right hand side and images fit the screen. This is a tell-tale sign that all companies and marketing teams can easily do to test their website.
What happens if your website isn't mobile-friendly? Unfortunately, your Google rankings will suffer. Sometimes with more than a fifty percent traffic reduction penalty.
In March 0f 2018, Google announced it would be indexing websites through mobile first indexing. Meaning, websites will be indexed in search engines by their mobile first, not desktop version.
And in 2020, Google released another statement letting those websites who are mobile friendly that there is a hard deadline in place.
These are the three signs your website needs updated, a company should contact a creative agency Omaha like Omaha Media Group for help with their newest redesign and development projects.
Contact Us
We want to hear from you, so what are you waiting for? Contact us today.
Get In Touch
Share this post
Comments