Signs you need a website update
Signs you need a website update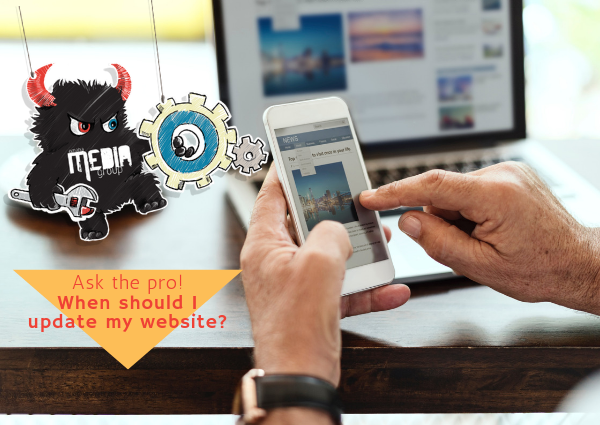 If it's been a while since you've taken an audit of your website, now is the time. Chances are, it's been a while since you've observed your website from the perspective of a user.
As a hardworking business, we understand the attachment to the content you're using and how your site flows. However, stepping back and seeing it from the user point of view can bean all the difference in the business you get.
Here are some easy indicators that you need have a new website.
Your website keeps getting hacked.
If you've fallen victim to your website being hacked, you know the pain, suffering and money that comes with fixing it. Not only is it mentally and financially exhausting, it can wreak havoc on your SEO and site health.
One of the single most ways a website gets hacked is by avoiding platform updates. If you've been clicking "remind me later" for weeks on end avoiding a CRM update, you're only increasing your risk of being hacked.
If you've gotten by without having your website hacked, invest in a secure platform with a trusted professional web developer (hello, nice to meet you). A true professional will utilize best practices to ensure your website safety to ease the threat of being compromised.
You're not attracting the right clients.
There is a great difference in the quantity of leads and quality of leads you receive via your website. Sure, 100 leads seems better than 10, but what if the 100 leads you receive don't fall under the clientele you're aiming to serve?
Your website should showcase the kind of work you want to provide to your ideal client. Weeding out the inquiries that can easily be identified as not a good fit for your business will time and frustration in the long run.
Position yourself in the right market with content directed to your client.
Your website isn't mobile-friendly.
The mobile-friendliness of your website must be a top priority for your business this year. Mobile search is everything, and your search engine results rely on it.
If you're unsure if your website is mobile-friendly or not, you can run it through Google's free mobile-friendly test.
Well over fifty percent of web traffic was made via mobile devices. As this number increases throughout the years, the importance of this feature will grow with it.
What happens if your website isn't mobile-friendly? Unfortunately, your Google rankings will suffer. Sometimes with more than a fifty percent traffic reduction penalty.
In March 0f 2018, Google announced it would be indexing website through mobile first indexing. Meaning, websites will be indexed in search engines by their mobile first, not desktop version.
There are many reasons you should have a new website developed in 2019. However, these three are definitely some of the most important reasons. If anything, to hold relevancy with search engines and the integrity of your business.
If you're concerned about the amount of time a new website takes to build, don't stress about it! We'll walk you through it!
Contact Us
We want to hear from you, so what are you waiting for? Contact us today.
Get In Touch
Share this post
Comments