Three reasons why you need a custom website design for your company
Three reasons why you need a custom website design for your company
/images/uploads/blog/Omaha-Media-Group-07.08-Blog_.jpg
Omaha Media Group
https://www.omahamediagroup.com/images/uploads/monster_gallery/Omaha-Media-Group-Black.jpg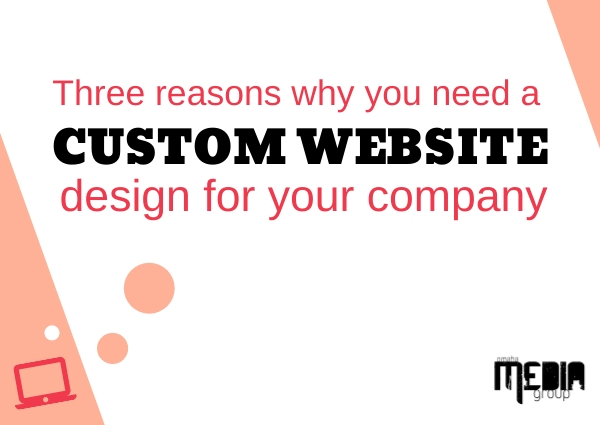 There are millions of websites out there and there are hundreds of thousands of experts and agencies who provide website designing services, but the thing with that is, most of those designers simply take a template and just fill in the blanks of that templated website.
That is the website! Yup, that is it. It is estimated that 66 percent of consumers would prefer to see something beautifully designed versus something plain and simple. And this includes the company's website. A custom site that is designed to your company's needs and wants might seem like a pricey investment in the beginning, but in the end, it will be worth the initial investment!
This is because oftentimes a website that is designed off a template cannot or will not be customized to meet the needs of your company now and in the foreseeable future! Here are three other reasons why a company should invest in a custom site design from an Omaha design agency.
There are hundreds of niche companies out there in niche industries and a website design should reflect how unique your company really is! Even if there are only two other competitors or none, no matter the size, a website design should show this off to all potential customers and clients!
Since your company is one-of-a-kind it should reflect this! A website that is just like everyone else's websites out there is just a waste of resources and time. What would make it different from other companies? A simple color change or a custom site?
All companies who are searching for B2B services are going to invest in something that will provide the highest return on investment at the end of the day. A website that is customized not only sets your company apart from others in the industry but in the same sense, it can be optimized for technical on-page and off-page SEO. A number of websites that are template websites are not super SEO friendly. This is because the templates are made to work for companies that utilize SEO and those who do not utilize it.
In the same sense, these websites are mobile friendly with modern designs which also help with ranking in search engines such as Google. Yup, it isn't enough to simply implement some SEO on a website and call it a day, from the design all the way to the images, it has to be friendly with Google's Development Guidelines in place.
At the end of the day, it is important to not only get the best ROI but to make sure that it is a sound investment for the future!
One of the biggest challenges for companies who have a website design and developed from a template that can easily be grown out of. Sure, when the website was first developed, it was the perfect website, but as time went on, it is outdated, slow and does not offer all the features needed for clients and customers.
A website should age with a company just like scotch or wine. A website should be able to be designed by an Omaha design agency with the future in mind. If your company has the projected numbers to skyrocket in the next couple of years or even months, make sure the website has the ability to handle and continue to grow with your company!
At Omaha Media Group, our company specializes in custom website designs and development! We are proud to offer a competitive advantage to all potential and current clients while being able to provide a higher ROI that grows with your company for the foreseeable future!
Let us know how we can help you! For more information, give us a call today!
What is a custom website?
A custom website is a website that is not simply designed or coded off a template. It is a design that is 100 percent unique to your company and its needs! Sure, maybe some inspiration comes from other websites, but in essence, it is a design that was made just for your website!
Why is design important for a website?
A website design is so important for a website because it is a company's first impression that consumers will make! A consumer makes a decision about a company in about 50 milliseconds and over 90 percent of a customer's perceptions of the company is design related.
our company specializes in custom website designs and development!
Let us know how we can help you!
Get In Touch
Share this post
Comments