What is micro marketing?
What is micro marketing?
/images/uploads/blog/WHAT-IS-MICRO-MARKETING-OMAHA-MEDIA-GROUP.png
Omaha Media Group
https://www.omahamediagroup.com/images/uploads/monster_gallery/Omaha-Media-Group-Black.jpg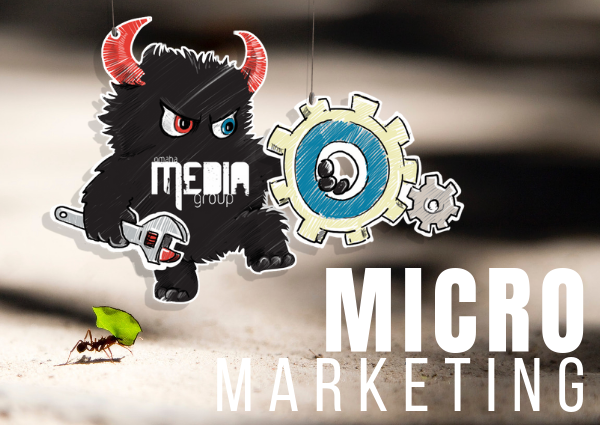 If your business is in an extremely competitive market, micro marketing can mean all the difference between success and struggle.
We've mentioned finding your target audience several times over the course of the years. And truthfully, we'll keep stressing it because the importance of it is that real.
Your marketing strategy and campaigns can not only increase your brand awareness, but also drastically change your profits. By utilizing these strategies and targeting your campaigns to the right audience, you'll find your business gaining more website traffic and quality leads.
What is micro marketing?
The strategy of micro marketing is to focus on a small group of targeted consumers and narrowing down that audience by specific characteristics.
Types of micro marketing could include a local business marketing towards someone in their mid-twenties, living in the 68136 zip code. Or targeting to an audience with a specific household income. A business could go as far as marketing to the customers they've lost over a period of time.
While there are several approaches to micro marketing, each entices specific consumers to take action in a personalized way.
Is micro marketing expensive?
Gauging the affordability of micro marketing can be difficult. When focusing on such a niche market, a business often times spends more marketing dollars per target consumers than they would in a macro marketing campaign.
Micro marketing can also mean making several customized campaigns based on small groups of consumers you're trying to reach. This tends to be more expensive than a few larger marketing ads geared towards a larger audience.
Is micro marketing worth it?
Micro marketing is is far more efficient than creating a mass advertisement. Most of the dollars spent in reaching an extreme audience go to waste. For example, Super Bowl ads. The millions of dollars spent on brand awareness on a platform (television) that is dying for advertisers isn't a reliable approach.
A smart business of any size can make themselves a household name with the right niche marketing strategy. Who wouldn't want the best payoff possible for the price?
Moreover, a micro marketing strategy has a great ability of helping a business slowly take over a market. Becoming well-known within a tight community of consumers encourages word-of-mouth. And word-of-mouth marketing is worth its weight in gold.
Micro marketing is a great way to grow your business and influence the consumers you'd like to have. This strategy requires extra research and creativity, but in the long run, has a better bang for your buck. ​​
Share this post
Comments