4 Reasons Why You Should Guest Blog
4 Reasons Why You Should Guest Blog
/images/uploads/blog/4_REASONS_WHY.jpg
Omaha Media Group
https://www.omahamediagroup.com/images/uploads/monster_gallery/Omaha-Media-Group-Black.jpg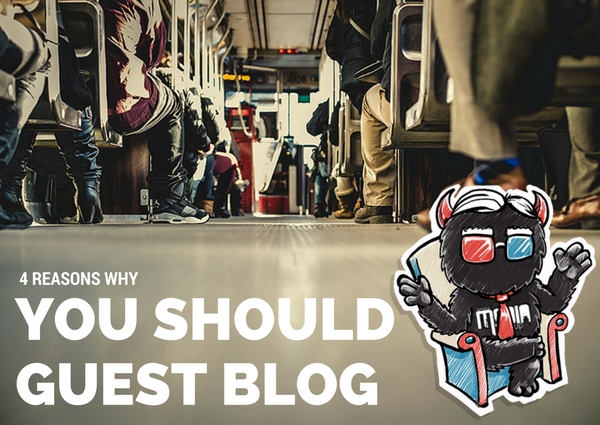 Guest blogging is an incredibly powerful tool in the domain of content marketing and SEO. Guest posting on popular blogs or websites can give you exposure, authority, bring you quality traffic, help you augment your social media presence and also give you more business opportunities.
Apart from these, there are also other advantages. This article aims to look at some of the most important benefits of guest posting for building your personal as well as business brand.
What is guest blogging?
Guest blogging is the practice of contributing content, which could be a textual blog post, a video blog or a collection of relevant images with suitable captions and alt tags, to blogs or websites owned by others. A lot of blogs allow guest blogging but the truth is not every blog will bring you the kind of quality backlinks or recognition that you want.
You need to research and find out the most popular blogs in your niche. Approach them with your offer and see whether they accept guest posts. You can then contribute your content. But remember that the quality of your content has to be outstanding if you hope to be published by top blogs or get useful referrals.
Benefits of guest posting
1. Link building
Guest blogging can bring you quality inbound links. Most blogs allow the guest author to link to their posts on their own blogs or include the URL of their blog/website or social media pages in their short bio notes. That is why guest blogging is considered a very important tool when it comes to organic link building. However, make sure that you don't include keyword rich anchor texts in your guest posts with the intention of drawing traffic or link to your own blog because thanks to Penguin, Google can now analyze the intention of an author using keyword rich anchor texts and also penalize them heavily.
2. Building a strong professional relationship
The amount of exposure posting on a popular or venerated blog can give you can't be matched by anything else. You can build a strong network in the comments section because a popular blog attracts a lot of quality traffic and the level of interaction will be very high. The quality discussion will help you evolve and improve. Also, you are exposing your brand to a much larger audience. This can bring more traffic not only to your own blog but to the landing pages of your website where sales conversions take place. You also get acquainted with your industry peers and build up a professional relationship based on mutual trust and admiration.
3. Credibility and authority
If your contents are regularly published by the top blogs in your industry or your domain, very soon you may come to be regarded as an authority. That is why the importance of quality content can't be overemphasized. This will bring more referrals, not only in the form of inbound links but also in the form of more traffic to your social media pages, more followers and also more newsletter and blog subscriptions.
4. More business opportunities
Guest posting will give you an authority on that topic and a direct consequence will be that many companies will offer you work assignments. They may ask you to join their content marketing team or they may ask you to offer expert advice.
Guest posting is very important. No digital marketing manager or content marketer can ignore it. But don't just look at it as a link building exercise, treat it as a branding and relationship building tool and it will transform your business!
Contact Us
We want to hear from you, so what are you waiting for? Contact us today.
Get In Touch
Share this post
Comments