4 SEO Mistakes That Ruins Your Blog (And How To Stop Making Them)
4 SEO Mistakes That Ruins Your Blog (And How To Stop Making Them)
/images/uploads/blog/4_SEOMISTAKES.png
Omaha Media Group
https://www.omahamediagroup.com/images/uploads/monster_gallery/Omaha-Media-Group-Black.jpg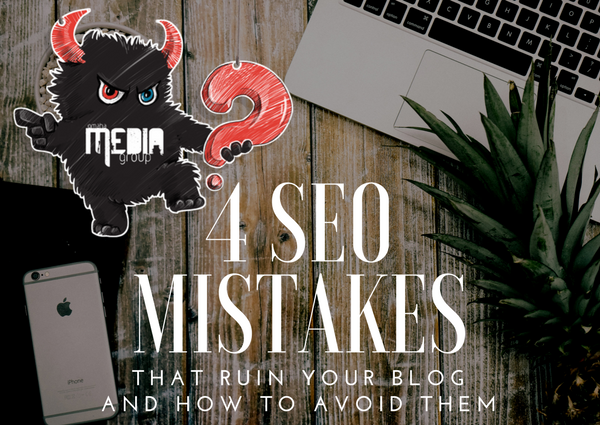 You have finally come up with an amazing blog that's not visually appealing but highly informative. It has a great design and incredibly friendly interface. But is that what you need for higher search rankings? Well, this is where most marketers go wrong. SEO is entering a whole new paradigm as a result of Google's dynamic algorithms and present-day technological advancements.
There are certainly many secrets of successful SEO. But still, some blogs fail to achieve their objectives. Here are a few blogging mistakes that can prove disastrous in terms of search rankings:
Unoptimized Keywords
Keywords are the core of search engine rankings. Hence, no blogger should ignore keyword research. But most bloggers don't optimize their keywords and focus only on covering topics. This is the reason why most of them fail to know their audience and what they are exactly looking for. The best way to optimize on-site blogs is by using long-tail keywords. Bloggers should optimize their meta tags, headers, and content with targeted keyword phrases so that they increase their blog's click-through rate.
Poor Web Page Copy
Success in the digital space comes when you write for readers, not search engines. Poor web page copies can prove disastrous because no one's going to read it. Most bloggers focus on using excessive jargon rather than the real information. The best way to come up with readable content is by using actionable tips in your content. You should use a powerful headline in order to grab your readers' interest. Prevent informational overload by making your content visually appealing and breaking it into chunks. You should also consider using editing tools so that your content is free of grammatical errors.
Unoptimized Videos And Images
It's just not poor web page copies that ruins search rankings. Videos and images also play a crucial role in determining success in the digital space. But most bloggers tend to ignore this and create unoptimized videos and images. Such content takes time to load and tests your users' patience. The best way to optimize images is by formatting them as .jpg or .png. The image alt text should also be optimized with targeted keywords in order to boost rankings on image search. You should also keep all your video files in a single folder and come up with a video sitemap for better indexation on search engines. In addition, keyword-optimized meta description of video pages is also a good way to boost indexation.
Inconsistent Back-links
Most bloggers underestimate the power of internal linking while going about with SEO. Internal linking provides different paths to users for navigating your website. It also attracts search engine crawlers to your web pages. As such, internal linking is something no blogger should ignore. You should conduct an internal link audit and identify webs pages that have good authority. Pay special attention to your drop-down menu and sitemap so that they are crawled properly. Finally, you should optimize all your anchor texts so that your linked pages drive impressions.
We want to help you avoid these simple SEO mistakes on your blog! Contact us!
Contact Us
We want to hear from you, so what are you waiting for? Contact us today.
Get In Touch
Share this post
Comments