Six actionable tips for a successful UI design
Six actionable tips for a successful UI design
/images/uploads/blog/Omaha-Media-Group-04.03-Blog_.jpg
Omaha Media Group
https://www.omahamediagroup.com/images/uploads/monster_gallery/Omaha-Media-Group-Black.jpg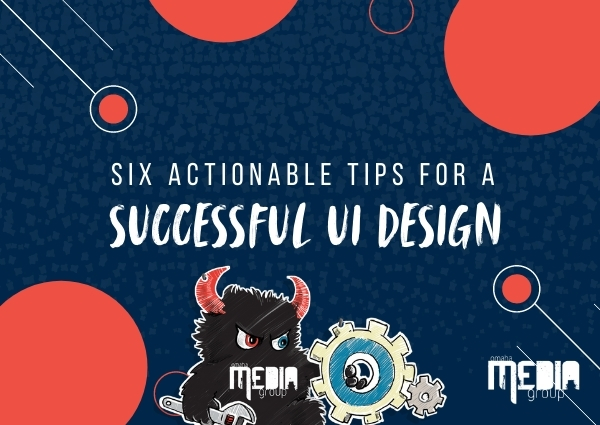 When it comes to developing and designing websites, there are several terms that are thrown around, but the key terms are UI and UX design. While both terms go hand-in-hand with one another, these design elements are different in their own ways.
User Interface design (UI design) is one of the most important aspects of developing a website. A consumer's experience is one of the key aspects in driving traffic to a website, and it is only natural that the UI design is simple, dynamic and user friendly.
When it comes to UI designing, our Omaha design firm suggests these couple of things that a designer must keep in mind.
Designing with clarity
Clarity is the communication between each consumer and the search engine that interacts with a company's website. When it comes to designing with clarity, companies will put this behind the scenes for flashy and visual pieces in hopes to "wow" their audience.
Any Omaha design firm would recommend that a company designs their website with the consumer in mind, while flashy presentations and visual pieces might seem the best, the right resources, text, communication and presentation is really the biggest element needed.
While designing a UI, it is important to put yourself in the shoes of the visitors. Think like them. Clarity is one of the most important aspects of any UI design. Users will drift away from the elements of a website that they do not understand.
Remember- the easier it is to find information, the better the website is.
Maintaining simplicity
There are a number of UI design trends, but the important thing is to keep it simple. Think from a customer's perspective and add only the essential elements. Overly complicated design can interfere with user experience. Remember, the quality of user experience is what matters. Unnecessary clutter on your website can cause users to drift away from the site.
Pointing out the preferred action
Most users prefer a website that gives them explicit instructions on what they are supposed to be doing next.
If the consumer needs to fill out the "contact us" form, guide them through the process with simplicity. As consumers ourselves, remember our own frustrations and use those as you design for the final actions necessary to the website.
While designing UI, try to include elements that will indicate the preferred action for the ease of the customer. This is especially important in the case of new users. Instructions on preferred action are extremely helpful to new users and can help them navigate the website better, thus accounting for a quality user experience.
Be consistent in your design
Consistency throughout the website plays a great role in enhancing the user experience. Users find it easier if a similar pattern is followed everywhere in the website. Consistency increases the usability and reliability of your website. It makes navigation easier for your users and increases the efficiency of your website.
Provide clear feedback
Clear feedback greatly improves user experience by helping the users feel as though they are more in control of any action that is taken on the website.
For instance, Gmail is one of the best examples of how clear feedback helps users. Gmail provides clear notification when sending an email, deleting an email and so on. This is one of the reasons why Gmail is one of the most popular email inboxes.
As technology continues to advance and companies are trying to keep up with their website design and development, call in a professional for a consultation! As a leading Omaha design firm, we can provide an audit of your website with actionable next steps that should be taken to bring your website up-to-date and compliant with search engines like Google!
For more information, contact us today!
Contact Us
We want to hear from you, so what are you waiting for? Contact us today.
Get In Touch
Share this post
Comments