Common Mistakes That You Should Avoid As a Professional Content Writer
Common Mistakes That You Should Avoid As a Professional Content Writer
/images/uploads/blog/3_COMMON_MISTAKES.jpg
Omaha Media Group
https://www.omahamediagroup.com/images/uploads/monster_gallery/Omaha-Media-Group-Black.jpg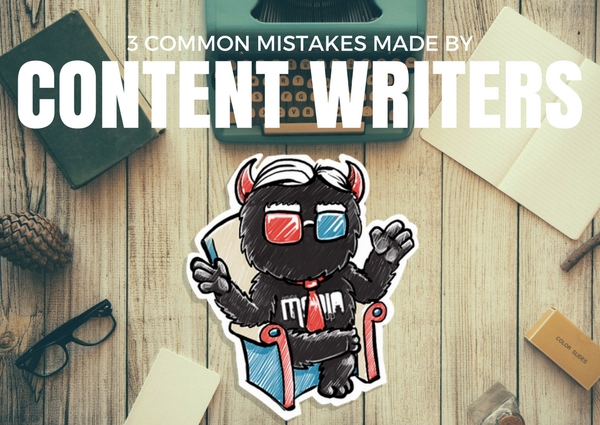 Content writers wield a lot of power in the world of content marketing and digital marketing because without the magic of words, your marketing efforts would be meaningless. Blogging, writing product descriptions, writing posts on social media or creating articles are the handiwork of content writers and all these efforts along with search engine optimization play a massive role in improving the visibility of a brand or a website and boost conversion.
Since content writers play a major role in content marketing, they are expected to be more accountable and responsible for their work. However, slipups are not uncommon in this field. Even professional content writers with years of experience are not completely free from these mistakes. But some of these mistakes are serious in nature and can easily discourage readers to read the content and also cause damage to the image of your brand.
Mistakes That Content Writers Make Often
1. Not doing enough research
A blog post is not exactly a memoir or personal diary. Yes, you can and will have to express your independent views but you will have to corroborate them with solid facts. One can challenge your view or argue with your conclusion but you shouldn't create an opportunity where your facts are challenged or your premise is called baseless. To make your posts interesting, you will have to do a lot of research, read books, read comments and posts that other experts in the field have made, make independent enquiries rather than completely believing and relying on everything that is available on the internet and also use statistics wherever possible. Research requires the maximum time in the process of creation of content. Many content writers, especially those who are working as freelances, have a tendency to breeze through this stage of the creation process. As, a result, the premises are often half-baked and sometimes facts quoted seem disconnected. Doing proper research is challenging but extremely rewarding.
2. Focusing on quantity over quality
As a content writer, you will be expected to create content consistently at regular intervals. But, once you have created a proper schedule and keep posting on your blog per that schedule, the readers will get used to that cycle and if you don't adhere to it, they'll likely think that you are not posting enough. What matters more is the information that you are providing. Your aim should be to cater your patrons with high value so that the time they spend reading your post can be justified. Many content writers miss this point. They think somehow posting a piece of content is doing them good from the perspective of SEO. They are clearly wrong. Even if the blog manages to rank high on Google's SERP, the bounce rate would be high and eventually, it would slip down. Don't resort to shameless plagiarism or making up facts.
3. Not proofreading
Once you have created a piece of content, your job as a content writer is far from over even if there is a separate proofreader and/or an editor. You will have to read your article a few times and correct the mistakes. Is the sentence construction correct? Is it grammatically and factually correct? Is that sentence clearly stating what you are trying to explain? Are there spelling errors? Well, a lot of content writers don't proofread once they have created a post and they get posted with mistakes. The editor can't be blamed because they may have their hands full, too.
A content writer can't get away with producing worthless content; don't produce content perfunctorily or when you are tired. Since it is a creative job, you will have to be at the peak of your cognitive abilities during the process. Eliminate these errors and the conversion rate of your blog or website will dramatically improve, we promise.
If you'd like to pass off your duties as a content writer, let us at Omaha Media Group take that on for you!
Contact Us
We want to hear from you, so what are you waiting for? Contact us today.
Get In Touch
Share this post
Comments