Digital Marketing 101: The Psychology Behind Social
Digital Marketing 101: The Psychology Behind Social
/images/uploads/blog/DIGITAL-MARKETING-101-PSYCHOLOGY-SOCIAL-MEDIA-OMAHA-MEDIA-GROUP_%281%29.png
Omaha Media Group
https://www.omahamediagroup.com/images/uploads/monster_gallery/Omaha-Media-Group-Black.jpg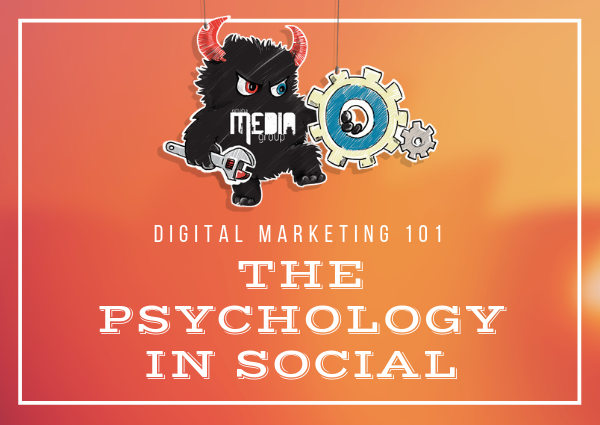 In our Digital Marketing 101 series we unpack the bits and pieces of our industry we feel would be helpful to you, our clients. With an extensive amount of jargon and convoluted terminology, digital marketing can be a lot to take in! While digital marketing includes SERP, SEO, PPC, analytics and more, we feel it's important to not only explain what things are, but why they are.
There's a quote by Brian Solis that says, "Social media is more about sociology and psychology than technology." If that's not the truth, then we don't know what is!
The Perks of Social Media Marketing.
Now, we know you don't need a digital marketing 101 blog to remind you that social media marketing is the cat's pajamas. But, we will remind you that social media marketing is an excellent and affordable way to build brand awareness, relate to your community and develop lasting relationships with your target audience.
So what piques the interest of your audience? What entices them to share your content or buy your products?
It all comes down to psychology.
Why do people share content?
First and foremost, people share the content when they feel it relates to them or other people.
According to the New York Times, there are five main reasonings behind content being shared.
To improve other people's lives.

To define their own persona.

To connect with others.

For positive feedback.

To spread a worthy cause.
Digital marketing includes the use of helpful, curated content to compliment original pieces. Ninety-four percent of the New York Times study participants said they share content aimed at improving the lives of their audience.
If you missed our Digital Marketing 101 piece on the 80/20 rule, we highly recommend you read that next! The mix of curated and original content adds trustworthiness and a little less of a "sell, sell, sell" vibe to your social media.
Trust and social media.
Trust and social media hasn't always gone hand in hand. And this is where social media professionals take on a great responsibility! Understanding the trust issues of the past makes it crucial for us to be personable, relatable and downright human for an audience.
Seventy-six percent of consumers believe that what their friends share online is more honest than advertising brands. This statistic speaks volumes. Understanding the nuances of your audience and being human to them is so important.
Stephen Covey says that one must "seek first to understand, then to be understood." Wise words, we must say. If an audience wants to understand what your business does, the audience must first be understood through and through.
Visual.
Did you know that sixty-five percent of the population are considered visual learners? Lucky for all of us, social media platforms like Facebook, Instagram and LinkedIn are extremely visual-oriented!
Strong visual elements accompanying a social media post are sixty-five percent more retained than posts without. Additionally, images on Facebook posts earn 2.3 times more engagement than text-solo posts! Better yet, images with a human element are more relatable than others.
What can you, our clients, do to capitalize on this? Send us images! Don't know how to take a good Instagram photo? We've got some tips for you here!
When executed in an authentic and strategic manner, the social platforms of your business can and should be a direct reflection of who you are as a business. By understanding the psychology behind each social move, your business can trust professionals like us to portray your business in the best light possible.
Need social media?
We'll take this digital marketing 101 moment up to 100 for you!
Send us a message!
Share this post
Comments