How to Improve the Domain Authority of Your Website or Blog
How to Improve the Domain Authority of Your Website or Blog
/images/uploads/blog/Improving_Domain_Authority.png
Omaha Media Group
https://www.omahamediagroup.com/images/uploads/monster_gallery/Omaha-Media-Group-Black.jpg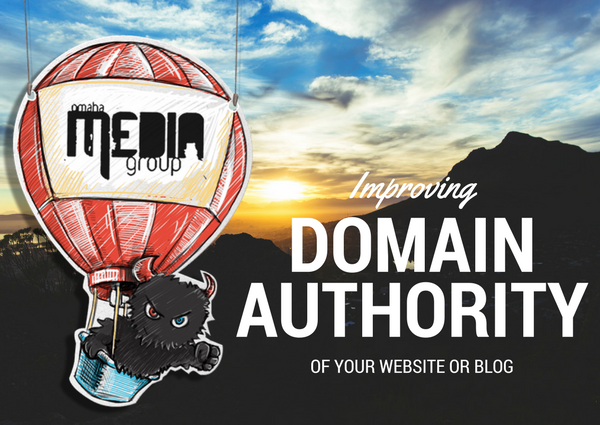 Domain Authority (DA) is a metric or a quantifiable parameter that has been developed by the famous SEO company, Moz. A score on a scale of 0 to 100 is awarded to various websites. It takes a number of factors into consideration and then merges all of them to predict how high a website can rank on a popular search engine. One thing needs to be clarified, however, although it is one of the most important metrics and SEO experts do take it into account while making on-page and off-page optimizations, domain authority can't be influenced directly.
However, a number of tweaks and changes can be incorporated in your optimization, design, content or other digital marketing strategies to influence it indirectly and thus improve it. Make no mistakes; it does pay off rich dividends.
What does Moz say about Domain Authority?
According to Moz, domain authority is a metric that helps to decide and understand how well a given domain will rank in Google's search results. It uses a machine learning model that helps it to predict an algorithm which correlates with the rankings of the domain among thousands of search results that Moz uses to make its prediction. It uses factors like Link Profile, MozTrust, MozRank scores, website loading speed, user experience and usability of a website, proof gathered from social signals, and many other factors that cumulatively help to arrive at the final Domain Authority score.
Neil Patel says in a Quicksprout post that it is almost impossible to get a DA score of 100 and only sites like Facebook and Google have it. Even a score of 40 or more can give you good enough site authority. Of course, there will always be the scope of increasing it further.
Ways to Improve Domain Authority
1. Creating and marketing great content
Nothing works without content. Even if you want backlinks from authoritative domains, you will need to produce quality content-something which inspires, informs, opens up a clear discourse and adds a new perspective or dimension even if it is not original. Research and relationship building helps immensely; if you have a strong social media presence and if you closely interact with your audience in the comments section at the bottom of your website or blog, you will not only be able to source ideas but also co-create with your audience. That is how you build credibility and make it unique. Pepper your website or blog with a dose of quality videos also. A video can easily go eyeball and catch a lot of attention in a short span of time. Stuffing your articles with keywords won't help. When creating content, think of your audience for whom you are creating the content rather than worrying about search engine ranking. If your content is powerful, it would happen eventually.
2. Social media presence
Even though Google had categorically said in 2014 that it doesn't take the number of social media profiles or the number of followers that you have into account, it is undeniable that social reach is an important factor for branding as well as domain authority. You can use social media to reach out to influencers, cajole influencers to offer you quality backlinks and also share powerful content. Google has made a few changes in it search ranking algorithm which is now giving more importance to how far you can influence your audience using your social media presence and is assigning a better social authority score which can influence your final DA score.
3. Build a credible and diverse link profile
You need to build a strong link profile that will encourage authoritative sites to link back to your pages. But, getting low quality links from low-authority and spammy sites can be counterproductive. Also, you will have to be careful not to fall into the lure of using devious means like paying for links or getting into an unethical agreement where you get backlinks through a network with the primary aim of promoting your rank on Google search results. Google has recently confirmed that its Penguin update is now a part of its core algorithm and so it would heavily penalize anybody caught using black hat SEO strategies.
4. Internal linking is equally important
Internal linking is very important and so are sitemaps. Internal linking not only makes it easier for your audience to find related and interesting content and move easily through a website but it also makes it easier for search engines to crawl and index websites. Unfortunately, this is often ignored. Don't make this mistake. Also, remove the broken links because search engines penalize sites for not removing them.
Use a combination of these or all of these for best results. However, you will have to be patient. It can't happen overnight. By using the right SEO and content strategies, you can build a strong DA that will help you to perpetually rank higher on SERPs.
Let us help you with Domain Authority!
Contact Us
We want to hear from you, so what are you waiting for? Contact us today.
Get In Touch
Share this post
Comments